Voted #1 STD Testing Clinic

Confidential, Private & Affordable STD Testing

in the Hesperia area
Welcome
Hesperia, California
Before you take off on a dirt bike to explore the nearby Mojave Desert or simply go on a hike it is important to take a few minutes and visit one of the STD clinics in Hesperia, California since the number of Chlamydia, Gonorrhea, Hepatitis B, C, Herpes, HIV and Syphilis incidents are on the rise. There are only a few free STD testing centers located in Hesperia, CA and this can make it difficult for residents to get the health care they need to prevent the spread of sexually transmitted diseases. Now you can schedule private STD testing with one simple phone call and only spend 15 to 20 minutes at a local lab. It is a fast and easy way to take care of your sexual health so you still have plenty of time to explore the stunning desert.
The following public facilities provide Hesperia, California Area residents with free or low-cost STD tests including Chlamydia, Gonorrhea, Hepatitis B, Hepatitis C, Herpes, HIV, and Syphilis.
For Confidential, Private and Same day STD testing Call: 1-888-380-5571 (6am-10pm 7 Days) or click here >>
Address Line: 16453 Bear Valley Rd, Hesperia, CA, 92345
Summary: Clinic. Please call or visit Web site for eligibilty for free or low cost services.
Services: Chlamydia Test| Conventional HIV Blood Test| Gonorrhea Test| HPV Vaccine| Hepatitis A Vaccine| Hepatitis B Vaccine| Syphilis Test
Hours: Monday: 8:00am - 5:00pm| Tuesday: 8:00am - 5:00pm| Wednesday: 8:00am - 5:00pm| Thursday: 8:00am - 5:00pm| Friday: 8:00am - 5:00pm
Toll Free: 800-722-4777
Fax: 760-956-4450
STD Test Statistics for Hesperia
This small city is currently seeing a steady increase in the number of sexually transmitted diseases each year, and the recent statistics released by the CDC and San Bernardino County Health Department indicate that this health problem has been occurring for the past twenty years.
Rates for some of the commonly transmitted STDs are decreasing, and this is good news for residents of this small rural community. After reaching an all-time high in 2012 Chlamydia rates in women are starting to decrease, but they are still significantly above state and national averages.
Unfortunately the recently released statistics also show that Gonorrhea incidents are increasing in men, especially among Hispanics and African American males. Even though these rates are not above state averages, if changes aren't made the percentages will be higher in just a few years.
What is really troublesome to health officials is the steady rise in early, primary and secondary Syphilis diagnosis, and this is a problem that is affecting surrounding San Bernardino County and the state. Each year more men test positive for Syphilis, and it is not uncommon for them to have contracted more than one STD.
The best way to combat the growing problem with sexually transmitted diseases is for everyone to get tested on a regular basis. Here are a few of the other statistics that highlight the importance of STD testing.
In 2015 the Chlamydia rates in women were above the state averages.
Statistics show that older African American and Hispanic men are at a higher risk for contracting Syphilis and Gonorrhea.
Women ages 20 to 24 are more likely to contract Chlamydia than those in other age groups.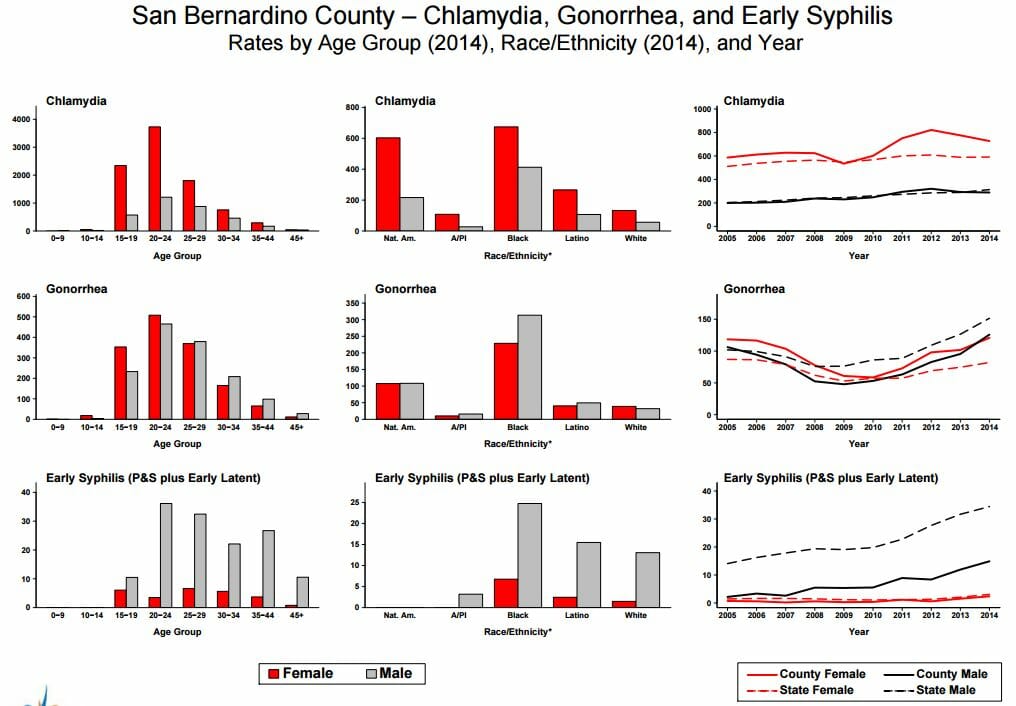 STD Testing and Sexual Education
In response to the rapidly rising STD rate state law makers now require all public school districts to provide unbiased, medically accurate information in their sex education classes starting in the 7th grade.
Parents who do not want their children learning about these topics, which include gender identity, contraceptives and information on the spread and prevention of sexually transmitted diseases can formally request to opt their child out. State law makers are hopeful that only a few parents will decide to keep their children out of these new classes.
The sweeping changes in the state's sexual education program are due to the alarming rise in STI's in every county, along with teen birth rates. Older adults, especially men, are also testing positive more often and health officials are hopeful that the updated sexual education program will be the first step in lowering the high incident rates.
Along with covering all of the ways sexually transmitted diseases can be spread, students will also learn about the importance of including STI testing in the health care routine. This includes regular Herpes testing in Hesperia, and officials are hopeful that this will help stop the virus from continuing to spread throughout the area's high schools. Regular HIV testing in Hesperia will also be discussed, especially since this is currently the only reliable way to positively identify the disease.
https://ww2.kqed.org/news/2016/01/13/sex-ed-now-required-in-california-public-schools/
STD Testing and Demographics
The city's rural location is one of the demographic factors that are contributing to the area's high STD rates. There are only a few community health centers in the city, and this is making it difficult for residents to be tested on a regular basis. Long lines are common at the few testing clinics, and many residents often find it difficult to find one that is conveniently located.
Recent budget cuts to state and federal health care plans are forcing many residents to forego regular testing due to an inability to pay. Unfortunately these are also the same people who are statistically the highest at risk.
Previously a lack of comprehensive sexual education programs were also contributing to the growing problem, but thanks to changes in legislation health officials are hopeful that this will no longer be a factor. Now that students and even their parents have easy access to all of the information they need to protect themselves, state and local officials expect to see STD rates begin to decrease.
Many residents are still ashamed or embarrassed to admit that they might have a problem, and others still do not see the need to get tested unless they believe that they have been exposed to a sexually transmitted disease. As long as these beliefs continue, this small city can expect to see high than average STD rates in the upcoming years.
STD Testing for Better Sexual Health
Its small population and rural location can make it hard for residents to believe that there is a STD problem in their city, but the statistics show that the number of reported incidents has been increasing for several years. This means that it is extremely important for residents to take the time to be tested for all sexually transmittable diseases regularly. It is understandable if you don't want to wait in the long lines at the STI clinics, and now you don't have to. With one quick phone call you can schedule confidential STD testing and only spend a few minutes in the privacy of a conveniently located lab.
Safer STD Testing in 3 easy steps
Disclaimer
Safer STD Testing is an informational referral website. It refers customers to nationally reputed private STD Testing service providers ("Private Partner Clinics" or "Advertisers"). Safer STD Testing is not a medical or healthcare professional facility or a provider of any medical or healthcare services.

Click here

to read our full disclaimer.