Voted #1 STD Testing Clinic

Confidential, Private & Affordable STD Testing

in the Lubbock area
Welcome
Lubbock, Texas
While you are enjoying the twang of country music at one of the local bars in Lubbock, Texas it is also important that you remember to visit an STD clinic for regular testing. The small city of Lubbock, TX has a higher than average percentage of STDs that include Chlamydia, Gonorrhea, Hepatitis B, C, Herpes, HIV, and Syphilis, which is why it is important for you to be tested. There are several free STD testing centers in the western city but you can avoid the long lines with one easy phone call. Schedule private STD testing at a local lab and only spend 15 to 20 minutes waiting around, and still have time to listen to your favorite country song.
The following public facilities provide Lubbock, Texas Area residents with free or low-cost STD tests including Chlamydia, Gonorrhea, Hepatitis B, Hepatitis C, Herpes, HIV, and Syphilis.
For Confidential, Private and Same day STD testing Call: 1-888-380-5571 (6am-10pm 7 Days) or click here >>
Address Line: 1902 Texas Ave, Lubbock, TX, 79411
Summary: Clinic
Services: Chlamydia Test| Conventional HIV Blood Test| Gonorrhea Test| HPV Vaccine| Hepatitis A Vaccine| Hepatitis B Vaccine| Herpes Test| Syphilis Test
Hours: Contact organization for hours of operation.
Phone: 806-775-2933
Fax: 806-775-3184

Address Line: 3315 E Broadway, Lubbock, TX, 79401
Summary: Social Service Organization. HIV and Syphilis testing and HIV/STD education is available to anyone who requests it. Also referrals to HIV services.
Services: Chlamydia Test| Conventional HIV Blood Test| Conventional HIV Oral Test| Free HIV Testing| Free STD Testing| Rapid HIV Oral Test| Syphilis Test
Hours: Monday: 8:00am - 5:00pm| Tuesday: 8:00am - 5:00pm| Wednesday: 8:00am - 5:00pm| Thursday: 8:00am - 5:00pm| Friday: 8:00am - 5:00pm
Phone: 806-786-5246
Nearby cities (approx 50 miles)
Made famous in popular songs the city of Lubbock, Texas is also well known for its high rate of Chlamydia, Gonorrhea, Hepatitis B, C, Herpes, Syphilis and HIV cases reported each year, and its shortage of STD clinics. While there are a few free STD testing centers in Lubbock, TX the long lines that are common have many residents putting off this important checkup. Now you can schedule private STD testing with one simple phone call and only spend 15 to 20 minutes in the local lab, which still gives you plenty of time to make happy hour in one of the city's infamous country and western bars.
STD Test Statistics in Lubbock, TX
The city of Lubbock is currently dealing with a rapidly growing STD rate, and statistics are showing that these numbers are not expected to decrease. For the past twenty years the city has been going through a health epidemic caused by an increasing number of residents who test positive for one or more STDs.
What is truly alarming to some health care employees is the growing number of teens and young adults who are diagnosed with Chlamydia and Gonorrhea. Statistics show that Chlamydia is still the number one sexually transmitted disease affecting women, with Gonorrhea coming in a close second. Men are also not immune to a sexually transmitted disease, and the number of males diagnosed with an STD is also increasing.
More men are testing positive for Gonorrhea, and while this is not surprising to most health care officials the high rate of Syphilis incidents among older males is. Statistics collected over the past twenty years show that incidents of primary and secondary Syphilis is increasing among heterosexual males and without regular STD testing this number is expected to continue to climb.
Other statistics that are causing alarm and bringing attention to the need for regular testing include;
During the first five months of 2013 the number of Chlamydia diagnoses in Lubbock surpassed that of the same period in 2012 with 907 new cases.
In 2012 there were 1,723 reported cases of Chlamydia.
There were 412 cases of Gonorrhea in 2007 compared to 737 in 2014.
The number of total Syphilis cases rose from 16 in 2007 to 36 incidents at the end of 2014.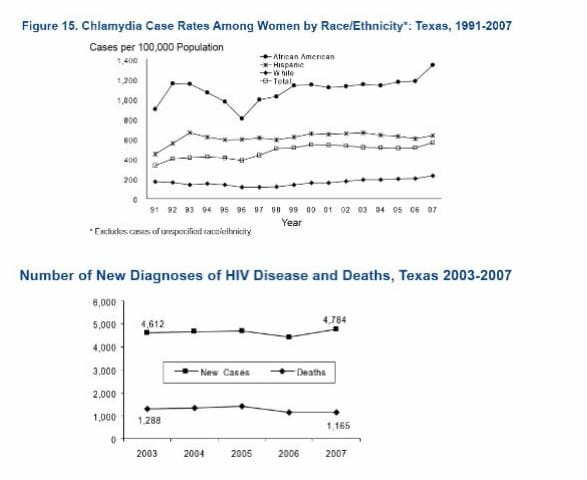 STD Testing and Sexual Education
As the number of reported cases of STDs continues to grow, some residents are beginning to question the effectiveness of the sexual education program currently in place in the public schools.
Like most of the state, Lubbock Independent Public Schools follows the abstinence only program which does not discuss the potential risks and dangers engaging in unprotected sex poses to students' overall health. Along with not discussing the dangers associated with some behaviors, teens are also not taught about the importance of using protection and being tested regularly.
To further confusion the issue, some of the schools are adding religious beliefs and personal values to the classes which has limited the current sexual education program. Many students are not aware of what exactly constitutes intercourse, and the majority of teens do not know that it is possible to contract a sexual disease without achieving penetration. The small amount of information students do receive generally only leaves them confused and unaware that they might be at risk, which is causing the STD percentages to soar.
Not all STDs require actual penetration to be passed, which is one of the reasons why it is important to have regular HIV testing in Lubbock. Herpes testing in Lubbock is also important, especially since this virus can be transmitted without having sex. Regular testing can potentially save your life, and it only has to take a few minutes of your time.
http://www.kcbd.com/story/4747808/lubbock-std-rates-are-chronically-high-especially-in-teens
STD Testing and Demographics
Demographics will always play a key role in a city's STD rates and this includes cultural and religious beliefs, along with age, gender, and income levels though this is not the only reason for Lubbock's high STD rate.
The city does have a large number of college students who do often test positive for STDs, but health officials are quick to point out that adults between the ages of 20 to 22 are generally the ones most likely to be tested regularly and often help prevent the further spread of the disease.
Lower income areas often have a higher percentage of residents who test positive for an STD, and this is true in Lubbock's poorer Hispanic neighborhoods. Strong religious and cultural beliefs can make it difficult for teens and even adults to admit that they are sexually active, and a deep mistrust for government clinics often make it difficult for health officials to convince residents to seek regular testing.
An inability to pay for STD testing and a shortage of clinics is also contributing to the problem, but many health care workers cite the lack of sexual education programs as the main reason why the statistics continue to rise. As long as residents are unaware of the dangers and risks associated with unprotected sex and the importance of regular testing, health officials fear that the number of reported STDs will continue to rise at an alarming rate.
STD Testing for Better Sexual Health
Before you take on the thrilling rides at Joyland Amusement Park or visit the awe inspiring National Ranching Heritage Center it is important to take a few minutes and take care of your sexual health. Many residents put off this important health step due to long lines at the clinics and to avoid running into a familiar face, but now you can schedule confidential STD testing with one quick and easy phone call. Instead of waiting in a long line all day you can spend 20 minutes at a local lab having the simple test done, and still have plenty of time to catch a baseball game at Dan Law Field or enjoy a night out at the Cactus Theater.
Safer STD Testing in 3 easy steps
Disclaimer
Safer STD Testing is an informational referral website. It refers customers to nationally reputed private STD Testing service providers ("Private Partner Clinics" or "Advertisers"). Safer STD Testing is not a medical or healthcare professional facility or a provider of any medical or healthcare services.

Click here

to read our full disclaimer.