Voted #1 STD Testing Clinic

Confidential, Private & Affordable STD Testing

in the Miami area
Welcome
Miami, Florida
In between hitting the hot dance clubs in Miami, Florida and sunning yourself on the beach it is important to remember to visit a STD clinic to get tested regularly. The sunny city is ranked in the top 5 percentile for its high rate of STDs that include Chlamydia, Gonorrhea, Hepatitis B, C, Herpes, HIV, and Syphilis, which make it important for you to be tested. There are several free STD testing centers in Miami, FL but you can avoid the long lines with one easy phone call. Schedule a private STD test and only spend 15 to 20 minutes at the lab, and still have plenty of time to enjoy the sun at the fabulous South Beach.
The following public facilities provide Miami, Florida Area residents with free or low-cost STD tests including Chlamydia, Gonorrhea, Hepatitis B, Hepatitis C, Herpes, HIV, and Syphilis.
For Confidential, Private and Same day STD testing Call: 1-888-380-5571 (6am-10pm 7 Days) or click here >>
Miami Dade County Health Department (Refugee Health Assessment Clinic)
315 Northwest 27th Avenue
Miami, FL 33125
305-643-7300
http://hivtest.cdc.gov/Detail.aspx?id=100064
Mon-Fri 7:00AM-5:00PM
No appointment necessary
Open to refugees, immigrants and parolees; HIV testing for 1st-time clients only
Sliding scale basis
Bring photo ID and proof of income/address
Miami, Florida is one of the most recognizable cities in the world. Well known for its beautiful views, vibrant culture and reputation as a hub for finance and entertainment, Miami was designated an Alpha-World City in 2012 by the World Cities Study Group. With a population of more than 5 million people, Miami is also an example of city and public health management. In 2008, Forbes declared Miami was "America's Cleanest City" and cited its air-quality, dedicated green spaces, the quality of its drinking water and the city-wide recycling program. But in spite of the efforts to make Miami the cleanest city in the country, problems with STDs remain an issue for this bustling metropolis.
STD Test Statistics in Miami, FL
According to a 2014 article in the Miami Herald, rates for both chlamydia and gonorrhea have doubled since 2006. While statistics show gonorrhea is on the decline in Miami, chlamydia has reached new heights with a record 77,851 cases reported in 2012. Of those cases, more than 55,000 were reported by women making it a serious health concern for the city.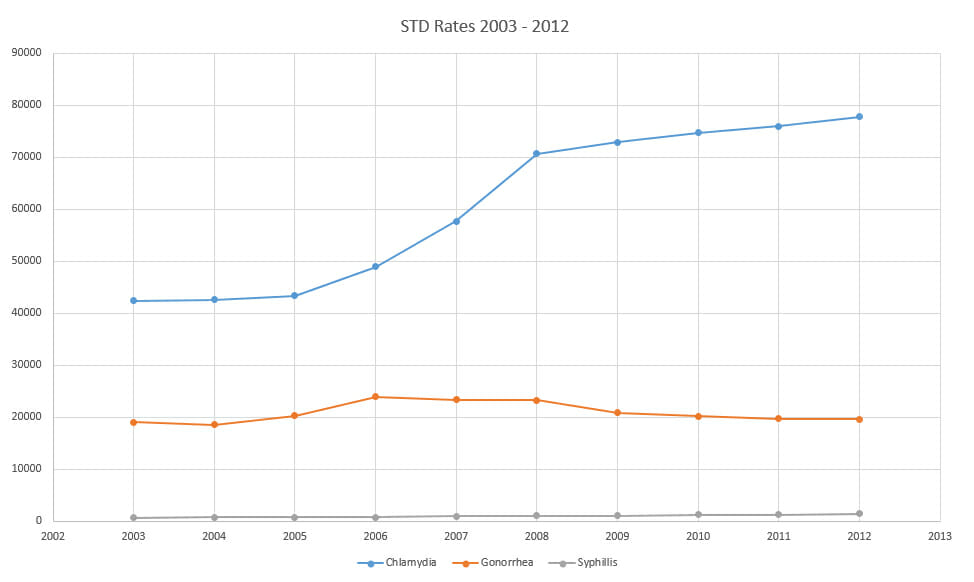 Another concern is the age of many people who are infected with these three STDs. Since 2003, the number of cases reported by those over the age of 55 has raised red flags among healthcare professionals who work with the elderly. Since Miami has a large population of retirees, this overall trend of an increase for STDs has many professionals worried that outreach services and STD education aren't being heard by senior citizens, partly because they may believe they no longer have to worry about engaging in safe sex.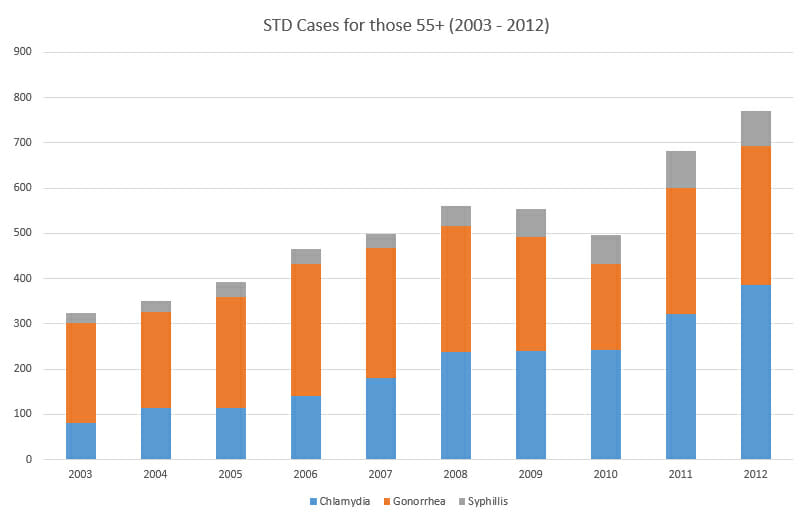 STD Testing, Clinics and Education in Miami, Florida
While Miami clearly has an issue with the spread of STDs citywide, the Health department has taken a proactive approach to education and testing. The Florida Department of Health offers STD testing options through low-cost and free STD clinics throughout the city. They also offer support, therapy and treatment options for those without insurance and outreach programs to help educate the public about not only precautions they can take but also early symptoms for a variety of STDs.
According to Florida State Statute 1003.42 (2)(n), health classes must cover "…an awareness of the benefits of sexual abstinence as the expected standard and the consequences of teenage pregnancy; mental and emotional health; injury prevention and safety; Internet safety; nutrition; personal health; prevention and control of disease; and substance use and abuse. an awareness of the benefits of sexual abstinence as the expected standard and the consequences of teenage pregnancy…" Unfortunately, this means many students receive little, if any, quality education in terms of understanding STDs and how they are transmitted or treated.
This lack of sex education has played a role not only in the spread of STDs throughout Miami, but it has also made it more difficult for people to understand why being regularly tested is so important. Routine STD testing should include both Herpes testing and HIV testing, but few people bother to have it done. Many don't have the testing completed because they think they have to go to special STD clinics.
HIV is another serious issue facing Miami and the city ranks first in the state when it comes to HIV and AIDS rates. In January of 2104, there were more than 27,000 people in Miami-Dade County who tested positive for AIDS and HIV. HIV testing in Miami, Florida is now a routine part of most yearly check-ups but, again, many people think they don't need to bother because of their age or relationship status.
Miami, Florida and Sexual Health
Miami is diverse in age, ethnicity and culture, and their STD rates reflect this fact. In some cases, rates are on the rise for the older population, pointing to an issue focused on the care of the elderly. Quite often, senior citizens think they are past the point of worry when it comes to STDs but, unlike pregnancy, sexually transmitted viruses can be passed on and contracted at any age.
At the same time, a lack of comprehensive and sensible sex education leaves younger people with no clue as to how STDs are contracted or what the early signs are of various STDs. As a result, few get tested regularly and many don't practice safe sex regularly.
Tourism plays a role in the sexual health of Miami as well. More than 38 million people visit the city each year, for a multitude of reasons. Miami is just as well known for its iconic beaches as it is for its more adult attractions. Florida – and Miami in particular – became a well-known city for sex tourism during the Prohibition, when the shores of Miami made the perfect landing spot for bootleggers. Since then, Miami's reputation as a party town has only grown and has always attracted people looking for a good time which often includes casual sex.
This combination of a lack in education and international tourism has created something of a perfect storm when it comes to STDs in the Miami area. Unfortunately, outreach programs that offer STD testing as well as specific HIV and Herpes testing don't always reach their intended audience.
How People in Miami Can Improve Their Sexual Health
As with many other initiatives to improve health, many residents of Miami need to be proactive. Due to a number of regulations, there are no options for a truly anonymous STD test in Miami but confidential STD testing is rather easy to obtain.
Both private and public STD clinics can offer a wide range of testing options, including specific tests for HIV and Herpes as well as broad spectrum testing. In some cases, this may mean reporting to a clinic and waiting for an appointment or people can also make use of mail order firms which offer discrete and confidential services while patients can remain anonymous since they don't have to leave their home.
Miami, Florida is a bustling town with a vibrant cultural scene and internationally respected tourism industry. Still, issues with public sex education and outreach programs have left the city with a serious STD crisis.
Luckily, there are more options than ever before when it comes to testing, treatment, advice and support. A number of companies offer same day STD testing locally and mail-order companies can offer results quickly and confidentially.
Disclaimer: Safer STD Testing and it's testing partners provide private (not anonymous) STD testing for all of it's patients. Your information and results are retained on record strictly protected in full compliance with the applicable state and federal privacy laws.
Safer STD Testing in 3 easy steps
Disclaimer
Safer STD Testing is an informational referral website. It refers customers to nationally reputed private STD Testing service providers ("Private Partner Clinics" or "Advertisers"). Safer STD Testing is not a medical or healthcare professional facility or a provider of any medical or healthcare services.

Click here

to read our full disclaimer.