Welcome
Montgomery, Alabama
In between touring the civil rights museum and antebellum mansions you need to remember to take time to visit a STD clinic for regular testing. The charming city of Montgomery, Alabama is known for football and an increasingly high rate of STDs that include Chlamydia, Gonorrhea, Hepatitis B, C, Herpes, HIV, and Syphilis. While the city of Montgomery, AL does have several free STD testing clinics there is usually a long wait that you will want to avoid. With one quick and easy phone call you can schedule private STD testing at a local lab. The visit will only take 15 to 20 minutes which leaves you plenty of time to enjoy the rest of the attractions downtown.
The following public facilities provide Montgomery, Alabama Area residents with free or low-cost STD tests including Chlamydia, Gonorrhea, Hepatitis B, Hepatitis C, Herpes, HIV, and Syphilis.
For Confidential, Private and Same day STD testing Call: (6am-10pm 7 Days) or click here >>
Montgomery County Health Department
3060 Mobile Highway
Montgomery, AL 36108
334-293-6418
http://www.adph.org/montgomery/Default.asp?id=1424
Mon-Fri 8:00AM-4:00PM
Individuals 12 years and older
Call for additional information
Medical AIDS Outreach of Alabama
2900 McGehee Road
Montgomery, AL 36111
334-280-3349
800-510-4704
http://maoi.org/locations.htm
Mon, Tue, Thu 8:00AM-4:30PM
Wed 8:00AM-8:00PM
Fri 8:00AM-12:30PM
Call for additional information
Emergency Relief Ministries ERM Outreach Ministries and Information Resource Center
PO Box 100831
Montgomery, AL 36110
334-324-4338
http://www.youthaidscoalition.org/std-testing-in-coosada-al.html
Person must be 12 years and older to be tested for HIV.
ERM is mobile testing unit. You can come to them, or they can come to you.
Call for additional information
Before touring any of the historic sites, including the Civil Rights Memorial it is important to take a few minutes and visit one of the STD clinics in Montgomery, Alabama and get tested for Chlamydia, Gonorrhea, Hepatitis B, C, Herpes, HIV, and Syphilis since the number of reported cases is on the rise. There are free STD testing centers in Montgomery, AL but the long lines that are common have many residents looking for an alternative method. Now you can easily schedule private STD testing with one simple phone call and only spend 15 to 20 minutes at the local lab, which still gives you plenty of time to visit the grand state capitol building.
STD Test Statistics in Montgomery, AL
Recently released statistics show that STDs are on the rise in Montgomery (county and city), and have been for the past twenty years. It has one of the highest rates of infection in the nation, and health officials are dismayed to learn that some larger cities are actually ranked lower for reported numbers of STDs.
These recent statistics only confirm health officials growing fear that STDs are on the rise, and that it is not only low income adults who are at risk. Teens and young adults are in the highest risk bracket for all STDs, including HIV/AIDS.
While officials weren't particularly surprised to see that Chlamydia and Gonorrhea rates are still increasing, they were alarmed to learn that the number of middle age men who tested positive for primary and secondary Syphilis is also one the rise. What is even more alarming it that it is no longer uncommon for adults to test positive for more than one STD at a time.
With the number of reported incidents of STDs on the rise, it has never been so important to your continue good health to get tested regularly for STDs. Some of the other data that health officials are paying close attention to includes;
In 2014 there were 16 new reports of primary and secondary Syphilis.
While the number of Chlamydia incidents was down from 2,922 in 2012 to 2,774 in 2014, health officials warn that these rates are expected to increase in 2015.
There were 938 new cases of Gonorrhea reported in the city in 2014.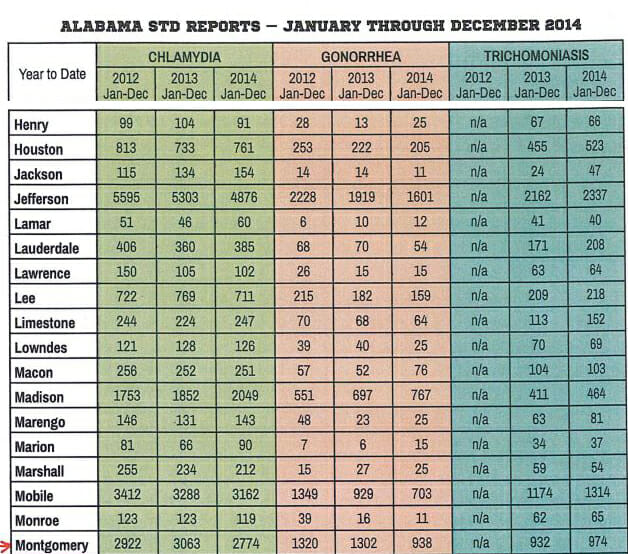 STD Testing and Sexual Education
Even though Montgomery is seeing a slight decrease in the number of reported STDs, it is still important to educate residents about the dangers of sexually transmitted disease. Until students and parents understand how important it is to get tested regularly for a STD, even if they are not sexually active the city will continue to have an extremely high rate of infections.
Currently the city and the state follow the abstinence only guidelines and while the basics of the human reproductive system and puberty are covered, almost nothing is discussed regarding the spread of STDs. Adding to the problem is parents unwillingness to talk about sex with their children or even let them participate in the limited health classes.
Without the proper education many students and parents do not realize that they can still contract a sexually transmitted disease without engaging in intercourse. Some STDs can be passed through casual contact, and not all of the viruses immediately display symptoms. Without regular STD testing many students do not even realize that they are infected until it is too late and the rest of the school is potentially at risk.
Regular Herpes testing in Montgomery can help stop the spread of the viral disease, and it can even prevent future embarrassing flare ups. Regular HIV testing in Montgomery is critical for your continued good health, and the simple test could potentially save your life.
STD Testing and Demographics
Demographics play a key role in a city's STD rates, and this is certainly true in this southern city. While Montgomery does have a diverse population, this can also cause STD rates to rise.
Health officials often find it difficult to reach all of the city's residents and explain the importance of regular STD testing. Many of the lower income neighborhoods have a deep mistrust of officials, and a simple lack of being able to afford regular testing has many residents hoping to avoid the problem.
A lack of community health care centers can make it difficult and even inconvenient to get tested regularly and the city's conservative values is hampering efforts to open new clinics.
There has also been a recent increase in the number of intravenous drug users, which always causes STD rates to rise. Statistics show that the increase in illicit drug is playing a large role in the city's high STD rates, especially among middle age Caucasian males who are often testing positive for Syphilis and other STDs.
Other demographical issues causing the city's STD rates to soar include the shame and embarrassment many teens and adults feel when they think that they might have contracted an STD. Cultural and religious beliefs that frown on sex before marriage can make it difficult for teens to discuss their sexual activities with their parents or another responsible adult.
Until there are comprehensive sexual education programs in place in the classroom, the city can continue to expect rising STD rates.
STD Testing for Better Sexual Health
Before touring the city's thriving downtown or visiting the zoo, it is important to take a few minutes and take care of your sexual health. While there are community health centers in the city, the long lines and fear of possibly running into a familiar face has many residents foregoing this important step in taking care of their sexual health. Now you can avoid the long lines with one quick and easy phone call and only spend a few minutes at the local lab, which still gives you plenty of time to add a visit to the Museum of Fine Arts on your list of "things to do".
Reference:
http://www.al.com/news/index.html
http://www.wsfa.com/story/29644416/montgomery-ranked-no-1-for-stds-in-new-study
Safer STD Testing in 3 easy steps
Disclaimer
Safer STD Testing is an informational referral website. It refers customers to nationally reputed private STD Testing service providers ("Private Partner Clinics" or "Advertisers"). Safer STD Testing is not a medical or healthcare professional facility or a provider of any medical or healthcare services.

Click here

to read our full disclaimer.