Looking for a free STD Testing Clinic in

Brandon, FL

?
Free and Low Cost
Public STD Clinics
Can take weeks to get an appointment

Opening hours vary per clinic

Test selection can be limited

Results take 1-2 weeks on average.

If treatment is necessary, you'll need to make a second appointment

Privacy is not guaranteed, and appointments can be embarrassing

May not be free or covered by insurance
Safer STD Private
Partner Clinics
You can order your test online or by phone today, no appointment necessary

Most labs open Monday – Saturday, walk in for a fast, discreet, 15-minute visit

FDA-approved or gold standard-rated STD tests

Results available within 3 business days

If treatment is needed, you'll get immediate support from an on-site doctor via phone consultation and guidance through the next steps

Your information remains private and secure
Have Insurance? Learn More
Should I get Tested?
Most individuals think that they should only get tested if they display STD symptoms like:
Genital discharge
Sores or a rash on the vagina or penis
Burning or itching during urination
This is simply not true. Many sexually transmitted infections have no visible symptoms at all. STDs are extremely common, and most go undiagnosed. STDs left untreated may lead to severe health consequences.
Take control of your own sexual health:
If you've never been tested and have had at least one sexual partner
If you've had unprotected sex since your last test
If you have symptoms that are worrying you
If you suspect you may have been exposed to an STD
Don't wait, take steps to protect yourself and your partner(s). Order your test today.
How does STD Testing Work?
The procedure - You may not need every test available. Specific STD tests screen for different types of infection. The tests recommended for you will depend on your history of STDs, sexual behavior, and presence of any symptoms.
The procedure will depend on the clinic you choose and the tests you require:
Public testing clinics routinely ask questions about your lifestyle and previous sexual activity
Our partner private clinics allow you to provide your test samples without filling out paperwork and without answering embarrassing questions
Blood Sample—a blood sample is necessary to test for HIV, oral or genital herpes, syphilis and hepatitis A, B and C
Urine Sample—a urine sample is the standard method used to test for specific STDs, such as chlamydia and gonorrhea
Our partner private clinics use blood and urine sample for accurate testing results; physical examinations and swab testing are not necessary
Public testing clinics often require a physical examination of your anus or genitals for signs of warts, discharge, sores, or rashes and may use a swab to collect saliva, discharge, cell or tissue samples
You have the option to schedule an appointment weeks in advance, or drop in and wait hours in line. When you do complete your tests, results are generally available 1 - 2 weeks later, and if treatment is recommended you'll need to schedule another appointment and wait. The entire process of testing, results and follow-up consultation can take up to 2 months.
Our Private Partner Clinics
Simply order your test via an online form or with the help of a specialist by phone. Then walk in for a fast, easy, 15-minute visit at one of the conveniently located labs (4000+ locations nationwide). Your confidential results will be available within 3 business days, and if treatment is necessary, you'll be put in touch with the on-site doctors for guidance and support through the next steps.
How much will it cost?
Costs vary from clinic to clinic, and depend on which tests are recommended for you. While some public clinics offer free testing, this may only apply to those who meet the low income requirements. They may provide testing for a single test( if qualified), but will charge extra for additional.
Our Private Partner Clinics
Pricing starts at as low as $65 if you choose to use health insurance and it is accepted by your preferred clinic. Individual tests start at $87.28 without insurance, or $249 for a comprehensive 10-test panel. Billing is private and discreet.
Other Questions
Safer STD Testing is an informational referral website. It refers customers to nationally reputed private STD Testing service providers("Private Partner Clinics" or "Advertisers"). We are not a medical or healthcare professional facility or a provider of any medical or healthcare services.
Yes, STD Testing will never show up in any email communications or any credit card statement. When test results are in, you'll get an email alert from our partner website. The email will not have your test results. It will have instructions to log in to your private, password protected account where you can access your test results securely.
Skip the lines at the free clinics and get tested privately
Simply order your test online, go for a 15 minute lab visit with no appointment needed ( at any of our 4000+ convenient locations), get your confidential results within 3 business days or less and get immediate access to a doctor if necessary to discuss next steps and treatment.
Got Questions?
Call free at
1-888-380-5571
( 6AM-10PM 7 DAYS A WEEK )
The following public facilities provide Brandon, Florida Area residents with free or low-cost STD tests including Chlamydia, Gonorrhea, Hepatitis B, Hepatitis C, Herpes, HIV, and Syphilis.
For Confidential, Private and Same day STD testing Call: 1-888-380-5571 (6am-10pm 7 Days) or click here >>
Address Line: 125 N Moon Ave, Brandon, FL, 33510
Summary: Clinic. Must become a patient in order to receive services.
Services: Chlamydia Test| Conventional HIV Blood Test| Gonorrhea Test| HPV Vaccine| Hepatitis A Vaccine| Hepatitis B Test| Hepatitis B Vaccine| Hepatitis C Test| Herpes Test| Syphilis Test
Hours: Monday: 8:00am - 5:00pm| Tuesday: 8:00am - 5:00pm| Wednesday: 8:00am - 5:00pm| Thursday: 8:00am - 5:00pm| Friday: 8:00am - 5:00pm
Phone: 813-423-7101
With all that there is to see and do in Brandon, Florida residents often forget that their bedroom community is seeing a spike in the number of cases of Chlamydia, Herpes, Hepatitis B, C, Gonorrhea, Syphilis and HIV reported each year, and that they need to be tested regularly at a STD clinic. Since there are only a few free STD testing centers in Brandon, Florida many residents are choosing to put off this important checkup due to the long lines, but now there is a faster and easier way. You can schedule private STD testing with one simple phone call and only spend 15 to 20 minutes at a local lab. This way you can take care of your sexual health without having to spend the whole day standing in line.
STD Test Statistics for Brandon
Every year the CDC and Florida Department of Health releases the latest STD statistics for the area. Since this small community is part of the greater Tampa metro area local health officials expected to see high STD rates, but they were not expecting these alarming percentages. For the past twenty years the STD rates have been climbing across the state, and it is no different in Brandon and surrounding Hillsborough County.
Not only are Chlamydia and Gonorrhea rates rising, but so are the number of primary and secondary Syphilis incidents. STDs are not just affecting one ethnic or age group, these transmittable viruses are a health risk for everyone. While teens and young adults still test positive for Chlamydia and Gonorrhea more often than other groups, Syphilis and HIV diagnoses are on the rise in older males. It is statistics like these that show STDs can and will affect anyone regardless of age or gender.
Some local leaders point out that STD rates in the county have always been high, but that this does not necessarily mean that residents in this small city are at risk. With an estimated 531.5 out of every 100,000 people in the area infected with a sexually transmitted disease, it seems clear that is a health epidemic that affects everyone.
Some of the statistics over the past twenty years that indicate that this is a problem for everyone, regardless of where the live include,
1993-1995 saw an STD rate of 330.40 per 100,000 residents, compared to 531.50 reported in the three year period of 2012-2014.
Since 1993 to the latest CDC statistics released in 2014 the county has had a significantly higher rate of STD incidents than state averages.
In 2014 there were 28,286 reported cases of Chlamydia, Gonorrhea and Syphilis in the city and county.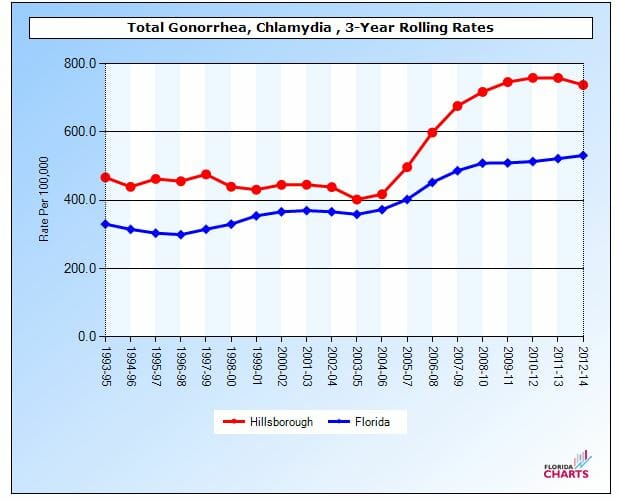 STD Testing and Sex Education
Even though the Tampa metro area has the highest HIV rate in the state, this school year ended without any comprehensive sex education programs in place in the classroom. Like many of school districts across the nation, sex ed. is not required and often not even offered, it is left strictly up to parents to decide what their children need to know. Students are encouraged to abstain from any type of sexual activity until marriage, but they do not receive any information on contraceptives or STD testing.
Many students do not even realize that being tested for all of the common sexually transmitted diseases is something that should be done on a regular basis, and not just when you think that something might be wrong. Not only is this putting their health at risk, but also everyone else they come in contact with.
Without these important classes most students do not know that STDs can be spread through methods other than sex, but this is changing regarding HIV. Medically accurate information on the spread of HIV is covered in health class, but there is still no mention of being tested.
Regular HIV testing in Brandon is one of the best ways to prevent the spread of the disease, along with always practicing safe sex. Regular Herpes testing in Brandon is also important, especially for students and their families. If everyone got tested the STD rates would start to drop, which would benefit everyone in the area.
Demographics and STD Testing
This bedroom community can blame part of its high STD rate on its close proximity to Tampa, but simply be part of the city's metro area is not the only reason residents are dealing with an increasing number of STDs.
The main reason that the number of sexually transmitted infections has been climbing is due to a simple lack of education. Residents not only do not understand all of the ways these viruses can be spread, many aren't even aware that they are putting their health at risk. Often teens become sexually active without using a condom, and the lack of information has also lead to several misconceptions.
Some teens and even older adults believe that a STD could never happen to them, while others think that it is okay to not use protection when they know the person that they are with. As long as these and other misconceptions are allowed to continue the number of people that test positive will keep rising.
Even though it is part of a thriving cosmopolitan metropolis, it is still extremely conservative. This is making it difficult for health officials and some politicians to make any changes that would include providing teens and older adults with all of the information they need to protect themselves from sexually transmitted diseases.
Protect Your Health with STD Testing
With the excitement of the big city nearby, along with some great beaches it can be hard to make yourself stand in line at the clinic just to be tested for STDs. This is an important step towards ensuring your good health, and now there is an easier way to get tested for STDs. Simply make one phone call to schedule confidential STD testing and then you only need to spend a few minutes at the lab. This way you can take care of your sexual health, and still have plenty of time to work on your tan.
Reference:
http://www.cltampa.com/news-views/article/20762458/abstaining-from-the-facts-floridas-lack-of-a-sex-ed-policy-may-be-screwing-its-students
http://wusfnews.wusf.usf.edu/post/hillsborough-county-sees-big-spike-std-cases#stream/0
Peace of mind is just a click away
You don't need to wait any longer than necessary to find out the status of your sexual health.
If the test results are positive you can be treated more quickly to address the problem sooner that prevent disease before it's too late.
Disclaimer
Safer STD Testing is an informational referral website. It refers customers to nationally reputed private STD Testing service providers ("Private Partner Clinics" or "Advertisers"). Safer STD Testing is not a medical or healthcare professional facility or a provider of any medical or healthcare services.

Click here

to read our full disclaimer.