Sex education in the public schools of Mississippi must be abstinence only or abstinence plus curriculums. This abstinence-only curriculum must teach that abstinence from sexual activity before marriage and fidelity within marriage are the only certain ways to avoid out-of-wedlock pregnancy, sexually transmitted diseases, and related health problems.
This is what state law says. You cannot include any demonstration in this type of curriculum of how to use condoms or any other contraceptives.
Abstinence plus education may discuss contraceptives and the nature, causes, and effects of STDs or the prevention of STDs, including HIV/AIDS, along with a factual presentation of the risks and failure rates. State law also mandates that boys and girls must be separated according to gender into different classrooms during sex-related education courses. Factnotfiction.com is an online resource for sex education and run by the Women's Foundation of Mississippi.
This group also funds eight programs statewide with grants that address STI education plus counselling and pregnancy prevention. This organization uses health department data to target advertising for the Fact Not Fiction site to teens in areas with the highest rates of STIs in the state. The site uses evidence-based and medically accurate data to address myths about common misconceptions about safe sex and STIs providing a strong education function.
Factnotfiction.com also has an Ask The Expert section. Anyone can submit an anonymous question about sexual health. The Women's Foundation collects those questions and gets nurses from the University of Mississippi Medical Center to answer.
The group attempts to use these digital tools to reach students where they are. The group attempts to not be judgmental and not use shame. They try to give students information that they need and make it feel like entertainment.
Demographics play a role in STD rates. For example, Chlamydia infections happen most with women under the age of 26. As another example, black people have 15 times the rate of white people as related to chlamydia.
Reasons for the highest in the land rates include poverty. People are less likely to be regular users of the health care system. This includes primary care.
Many have no insurance or are underinsured. These people tend to use the emergency room and health department clinics more than a primary care doctor. African Americans in the state have higher rates of chlamydia, gonorrhea. and syphilis.
This is according to Mississippi Department of Health data. With the numbers showing that the state's syphilis rates have almost tripled in the last three years, the Mississippi Department of Health notes that rates are rising quickest in the young African American male demographic.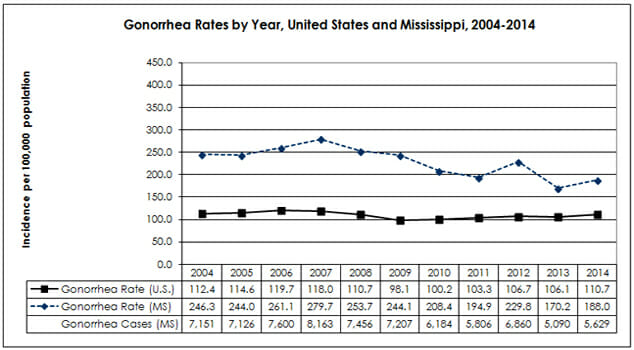 The Women's Foundation of Mississippi points out testing for STIs is available statewide at county health departments as well as several other independent organizations, and some STIs are easier to treat when detected early as with chlamydia and syphilis. The group encourages early detection at one of these testing sites.
The Women's Foundation of Mississippi also runs Factnotfiction.com as an online resource for STI prevention and includes a Clinic Finder tool. This allows Mississippians to search for all available locations to go get tested for STIs in the state.
A service such as Plushcare STD Testing is another option. This service is advertised as being 100 percent confidential. It is also a local service where you order the lab test and go to a local lab.
They also say that the service is simple, fast, and private, with a best price guarantee, top doctors in America, and a money back guarantee.  Testing is for chlamydia, gonorrhea, herpes, HIV, syphilis, and hepatitis. Same day service is available.
STD Check is another option in your city. You order and test on the same day. The service is confidential and available in 15 minutes. Same Day STD Testing is also available in your location. They advertise as being a fast, affordable, and private STD testing service.
You use a testing center near you. They say that clients get high quality convenient laboratory screenings with a very informative staff. Their goal is to remove worrying and concerns associated with Gonorrhea, Herpes, Chlamydia, Syphilis, Hepatitis, HIV, and standard STD Testing.
Planned Parenthood is another option but this center is over 70 miles away from your city. The Hattiesburg Center/Planned Parenthood offers the following services related to the testing and treatment of sexually transmitted diseases (STDs): chlamydia, genital warts, bacterial vaginosis, gonorrhea, herpes, HIV (testing and diagnosis only), syphilis, and trichomoniasis (trich).
You should be aware that counseling is available so a phone call from you could be something for you to consider. This is all anonymous and without your name. The testing for HIV is confidential and provided by trained staff who are sensitive to your needs and concerns and so is the counselling.
Coastal Family Health Center Biloxi Clinic can help you. You need to register to become a patient. The clinic offers HIV Testing, Chlamydia Testing, Syphilis Testing, Gonorrhea Testing, and Herpes Testing.
To apply for sliding scale fee, the following are required: Photo ID, proof of income; household member information, and any insurance information including Medicaid and Medicare if applicable.
The Mississippi State Department of Health Harrison County Health Department Biloxi Clinic is another option for you. This facility offers:
HIV Testing
Chlamydia Testing
Syphilis Testing
Gonorrhea Testing
Hepatitis B Vaccine
HPV Vaccine
The South Mississippi AIDS Task Force is in your city. It is a community based organization offering HIV testing. You need an appointment for HIV testing.
The Mississippi State Department of Health Harrison County Health Department Gulfport Clinic offers:
HIV Testing
Chlamydia Testing
Syphilis Testing
Gonorrhea Testing
Hepatitis B Vaccine
HPV Vaccine
The Mississippi State Department of Health Hancock County Health Department is another option. The clinic offers:
HIV Testing
Chlamydia Testing
Syphilis Testing
Gonorrhea Testing
Hepatitis B Vaccine
HPV Vaccine
One of the less talked about, but highly used services of urgent care centers and walk-in clinics is STD testing. Testing can be for Chlamydia, Gonorrhea, Hepatitis B, Hepatitis C, Herpes, HIV, Syphilis or any other disease or condition. The STD screenings are of value to people in your city.
Options are available for you to get information about STD testing and treatment in various ways. These options include getting information from a counsellor or nurse at an area school, a private service, or a group such as the Women's Foundation of Mississippi.
To get information about STDs, testing, and treatment you can go to a counsellor or nurse at a school such as Biloxi High School. You can also get such information from Merit Health Biloxi. Here are links to resources mentioned.