The law does not require that sexual education be delivered and each local school board decides whether or not they will teach it and what topics they will discuss. Pennsylvania has been part of the community that has received funds for abstinence-only-until-marriage programs and yet the state law does require STD and HIV education.
This type of mixed-message delivered to teens makes for confusing facts around safe prevention of STDs. Fortunately for residents the national coalition to support sexuality education has been vocal in ensuring appropriate STD education and information is available at all local schools. Unfortunately a recent effort to have condoms distributed in schools was blocked meaning that teens who want to access condoms need to go to a health center.
Suggestions for improved sexual health education that have been suggested are:
Begin sexual health curriculum prior to high school
Offer sexual health clinics within schools
Make condoms available to students
Recognize that an abstinence based philosophy contradicts the stats that show teens are sexually active
The local colleges both have health centers that provide information, education and testing. These are accessible by students as well as the local population and they play a key role in maintaining the good sexual health status in the region. Through STD education and treatment the community is taking charge of their health.
As in many areas with such a youthful population, the young and less educated appear to have the highest risk therefore much of the local outreach work done has focused on this population. Clearly, local health workers are getting this message across as the decrease in STD transmission is consistent in the region comparing stats today from 20 years ago show improved rates compared to the National trends.
Although the area has a young demographic with a higher than typical poverty rate, this may simply be due to the disparity between the 'starving students' and the medical professionals and professors in the community. Despite incomes being at the poverty level, the State College community health workers don't see as many "at-risk" populations with addictions or homelessness as other areas of the state.
There is less racial variety here than in some states. The population is largely Caucasian and black. The community is slowly becoming more open to topics of sexual orientation which also helps to decrease the stigma that can be associated with some STDs and that population.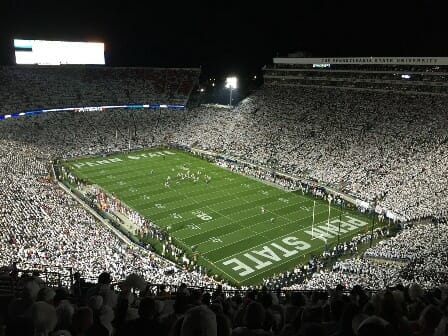 The area faces a similar problem to many cities, finding the balance between public health education and STD prevention. Figuring out how to make the most of this expensive and time-consuming dilemma means ensuring adequate number of sexual health clinics are available in the region. Currently, there is a mix of private clinics which offer STD and HIV testing confidentially, quickly, and conveniently. There are also free clinic options.
Remember, having STDs diagnosed at an early stage which will increase the chance of successful treatment and reduce the chance of continued spread of disease. Early and frequent testing is the key to keeping your health safe.
Times and attitudes around STD prevention and treatment are changing. Embarrassment and guilt once associated with STDs is slowly disappearing as minds are opened and educated.
If you are sexually active, if you have changed partners recently, or if you may have symptoms of an infection, get yourself to the clinic. There's no need to wait; there are same-day appointments or discrete and private options available. And if that doesn't help you, there are always in-home test kits you can easily order online. The peace of mind that comes from a clean bill of health is that simple!
https://wwwn.cdc.gov/CommunityHealth/profile/currentprofile/PA/Centre/310030