The local city government currently enacts a CDC-sponsored program available to the whole state of Vermont called "Promoting Adolescent Health Through School-Based HIV/STD Prevention." The program, which is supported by federal grant money, helps the city to provide education and improve sexual health in middle and high school students, the demographic responsible for a great majority of Burlington's STD cases. There are three main components to their approach, which includes sexual education, sexual health services, and a health school climate.
Sexual education consists of many factors. One such factor is pregnancy and HIV prevention. This plays one of the largest roles in sex education, and the program focuses on abstinence and the use of contraceptives to avoid STDs and unwanted pregnancies. Another factor is reproduction anatomy, where adolescent males and females alike learn about the reproductive system, how disease can spread, and how pregnancy occurs. Another factor still is how to say "no" if a partner is uncomfortable with something, and where to go for sexual health services, such as condoms and birth control.
Sexual health services are also available in Burlington to those who want to prevent disease or have a means to participate in healthy sex. These resources can include cancer screenings, disease testing, providing contraception, pregnancy testing and counseling, and sexual assault assistance. Anyone the surrounding areas can participate in the services, but they are especially effective for the city's youth.
Lastly, schools push a high standard for a comfortable classroom atmosphere, where students and teachers alike base all of their relationships on respect. This push for greater tolerance in a school setting has helped adolescents to make empowered decisions about their sexuality and helped to decrease the amount of people afflicted with STDs.
As we have already mentioned, the demographics in Burlington that are most likely to be affected by STDs are white adolescents to young adults age 24. There are a few reasons why this is the case.
The first is because the city's population is 88 percent white, which lends itself to a higher rate of STDs in white citizens as a whole. The second reason is because teenagers to young adults either have fewer inhibitions about safe sexual practices or less sex education, though this is a gap that Burlington's community is bridging.
The last reason for this could be because, even with available sex resources, many youth don't know where to go, where to find them, or feel awkward about asking. With better resources, however, and clinics readily available to help the community, these efforts should be able to assist with STD prevention.
Of the remaining population of those afflicted with STDs, only about 14 percent are black, and another 14 percent are Latino, Asian, and multiracial. What is really striking is that more women contract STDs in men unless male homosexual interactions take place. This is partially due to the fact that males may still have sex even with knowledge of their STD, while females may be less inclined. The following graph depicts females who have gonorrhea and chlamydia in Vermont, though the statistics can generally be applied to the city as well.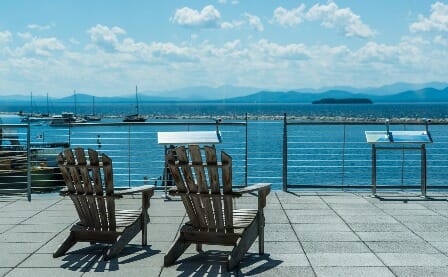 The people who work in the sexual health clinics are always happy to assist you with any questions you have about your own sexuality and have services to help worried parents with their children's sexuality. We provide confidential STD testing to make sure your privacy and integrity is kept intact. Many people have expressed how much they appreciate this aspect of our services, as to remain discreet.
We have counseling services and emotional guides for those who need sexual advisement. We also have educational guides and experienced personnel that can answer all of your questions and make sure you have the resources, contraceptives, and education you need to have safe sex and prevent STDs. Testing for STDs takes only about 20 minutes, though it will take a little time to get the results, which means you can get back to the water, hit the city's bike paths, and enjoy everything else Burlington has to offer.
http://healthvermont.gov/disease-control/std