The number of visitors to Hilo annually continues to increase with Hawaii reporting 8.3 million tourists in 2014. This means there is a constant stream of potentially infected partners to and from the island who come from countries with different views on sexual health safety. This means continued education is vital to improving sexual health statistics in the city.
Left untreated STDs can lead to:
Infertility
cancer
blindness
organ damage
Diseases that can be detected through testing include:
chlamydia
gonorrhea
HIV
hepatitis
syphilis
trichomonaisis
TB
AIDS/HIV testing is easily accessible with funding provided by the Department of Health. Results for an HIV test take 3 weeks minimum.
Herpes infection can be determined two weeks after exposure and the test can be performed at most health centers in Hilo. Results take less than 2 days on average.
The state was ranked 24 out of 50 for teen births rates among females aged 15-19. Statistics collected on teen sexual behavior in Hilo have teens reporting condom use less than 50% of the time during sex. This puts the teen population at extremely high risk for STDs. The city's students are at risk of experiencing unintended pregnancies and the spread of sexually transmitted infections including HIV. Data from the Youth Risk Behavior Survey in 2015 shows that 22.3 percent of local high school students are currently sexually active with at least one partner in the last three months. Among those, during their last sexual encounter,
20 percent used drugs or alcohol beforehand.
48 percent reported that they used a condom.
27 percent used some method of birth control (pill, shot, patch or ring)
13 percent reported they didn't use any method to prevent pregnancy.
State laws and policies are in place to help prevent teen pregnancy and the spread of sexually transmitted infections through a comprehensive, abstinence-based sexual health education. This teaching of abstinence to a population who are already sexually active is certainly not helping our youth to take control of their sexual health. With easily available education and access to testing sites, your health is in your hands.
The numbers of tourists, the youthful participation in sexual encounters, and the higher historical prevalence of diseases in the city make regular testing for STDs vital to the health of anyone who is sexually active. This demographic chart shows the unusual balance of Asian or Multi- Racial and Caucasian demographics.
The cost of living on the island in ratio to its wages and unemployment stats mean that lower income families can be at risk for staying healthy. Fortunately there are free clinics offering support to those in need. The atmosphere of adventure and the laid back lifestyle both play a contributing factor in the continued spread of STDs.
Screening is recommended by the local clinic
Sex without protection.
You have engaged in protected sex with multiple partners.
If you are a man who has sex with other men.
If you have been sexually assaulted.
If you think you have symptoms of an STD.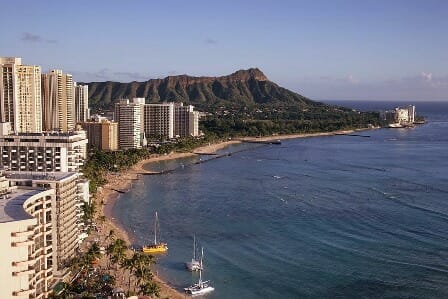 The island fantasy of fun and adventure includes sandy beaches and romantic sunsets but keeping safe while you frolic under the island stars and has never been so important or so easy. Take care of your health while you are in the city, no matter if you are a temporary visitor or a permanent resident. With clinics close to the beaches, to college and to downtown, getting peace of mind about your health has never been so convenient and simple.