STD Testing and Sexual Health Education in Southfield, MI
On Oakland County's website, the district shows its use and encouragement of STD and HIV/AIDS education with its HIV Linkage to Care Program. This program is extremely beneficial to the community in that its free and provides support services, access to medical care, and nursing staff from the county Health Division for citizens who are suffering from or need more information about STDs and HIV/AIDS. The website also provides links to information about HIV prevention medication such as pre-exposure Prophylaxis.
To educate its youth population about the importance of safe sex, including STD prevention and testing, the public schools of the city of Southfield, MI abide by the Michigan Department of Education's policies regarding STD/HIV and Sexuality Education. Statewide, public schools follow the Sexual Health Initiative for Transformation, or SHIFT, which outlines four main components of thorough sexual education courses. The four components include Exemplary Sexual Health Education (ESHE), Facilitate Access to Sexual Health Services (SHS), Safe and Supportive Environments for All Students and Staff (SSE), and Youth at Disproportionate Risk (YDR). In addition the site page for sexual health education includes close to 100 resources covering every aspect of its sexual education program's mission, policies, and achievements ranging over categories such as law and policy, advisory boards and parent resources, curriculum instruction and assessment, qualified teachers and professional development, and statistics and reports.
Locally, the city of Southfield provides free STD and HIV/AIDs education and prevention services at the South Oakland Health Center, a division of the Oakland County Health Division. 
Sexually Transmitted Diseases and Demographics in Southfield, MI
Population Demographics for 2016-2017 for Southfield, MI show that overall, African Americans make up 70% of the total population, with men and women being almost equally split. Understandably then, with such a large percentage of the population being of the same race, the annual review of HIV trends in Southeast Michigan for 2010 – 2014 show that rates are much higher within the area for citizens of African American descent. In regards to gender, the highest rates of new HIV diagnoses occurred in men. Overall, the demographic sector with the largest rate of HIV contraction are African American males ages 20 – 24.
Breaking it down more specifically into statistics concerning STDs such as Gonorrhea, Syphilis, and Chlamydia, there are still more recorded cases among the majority African American population, but interestingly by gender both white and black males outpace females in diagnoses of Gonorrhea, while within both races females have far higher rates of Chlamydia. Another interesting and very concerning demographic trend you should be aware of is the age range for contraction of these diseases. The majority of new diagnoses occur in individuals ages 15 – 29 years old; with number of cases in these age ranges being in the thousands while bordered starkly by numbers in the low hundreds in every other age category. Despite the majority being focused on these ages, a concerning fact remains that in 2015 there were 80 reported cases of Gonorrhea and 392 reported cases of Chlamydia in children ages 10 – 14.
Pulling this information together, along with the Chlamydia rates resting at higher than the national average as discussed earlier, it seems apparent that focus be put on sex education, particularly information regarding the dangers of STDs and how to prevent them, at an earlier age. The 10 – 14 age range is a critical time in a child's life as they are going through middle school and many personal changes. This group of young men and women need information the most as they get used to becoming a young adult.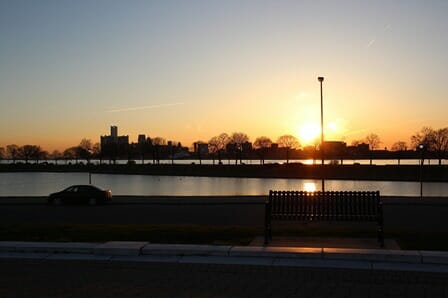 STI Testing Resources in Southfield, MI
There are two main public STD testing clinics in the Oakland county area. One is the North Oakland Health Center, and the other is the South Oakland location. The South Oakland location is housed in Southfield itself. These public clinics offer standard STD screening, diagnosis, and treatment for  chlamydia, gonorrhea, HIV, and syphilis. Unfortunately, if you want to be tested for other STDs such as Herpes or Hepatitis, you will have to go to one of the other two clinics in the area outside of the Oakland County Health Division.
The closest Planned Parenthood location to Southfield, MI is located in Ferndale, Michigan. The provide education and services for everything from pregnancy aid, birth control options, STD information and screenings, and more. Local family planning centers include Northland Family Planning in Southfield. Northland Family Planning is a women's health clinic that focuses primarily on pregnancy prevention, planning, and options; but they also provide more than sufficient information and screenings for sexually transmitted infections.
Concentra Urgent Care and Southfield Urgent Care provide quick STD services to Southfield locals. Concentra, while focusing on occupational health, provides preventative and diagnostic STD screening and testing. Southfield Urgent Care provides multiple options for someone concerned about their risks and getting information about STD testing. They are open 7 days a week, provide STD testing and treatment, and have an entire page of their website devoted to various websites that provide education about various diseases, symptoms, and treatments.
Better Sexual Health in Southfield, MI
Unfortunately, while living in a society that continues to put greater and greater emphasis on health by encouraging clean eating, exercise, and opening new mental health dialogues, sexual testing and health continues to be something that goes unspoken about due to its sensitive and often uncomfortable nature. The best thing you can do to look out for the sexual health of you and your loved ones is to stay up to date, informed, and not be afraid to go get tested or ask a partner to get tested. There are so many sources of free testing and information, and doctors are always more than happy to answer any additional questions you may have. Keep your life happy and healthy and remember to stay on top of your sexual health.