STD Testing and Sexual Health Education in Romulus, MI
The statistics above are undoubtedly sobering, and they send a clear signal to the population and activists and educators that more needs to be done in Wayne County (and truthfully, across the United States). However, the statistics are not all doom and gloom. There are some high points among the more sobering indicators. For instance, in the most recent years that statistics exist for, Wayne County was one of only two Michigan regions that reported declining gonorrhea and chlamydia infection rates. However, it is not yet clear what the reasons are for this decline; does it represent a paradigm shift indicating that education is having a real impact on behaviors or is it a statistical fluke? It may take several more years to have a clear answer to this question.  
The state of Michigan, as a whole, seems to recognize the importance of including sexual health education and more comprehensive education on positive citizenship and good self-esteem into school programs. To successfully address this, the Michigan Department of Education has developed material for educators across all grades and also has numerous curriculum suggestions that can be adapted to address local community needs. However, the Romulus Community School District is small and relatively resource-strapped. This lack of resources may impact the ability of educators to focus on sexual health education.
In addition to the curriculum guides noted above, the Michigan Department of Education also has a full-time HIV education consultant that engages in community outreach on this issue.
Community and school-based sexual health education have always been critical tools in combating STDs in local communities. However, in the modern world, these tools are even more important. Across the country, including in Wayne County, Michigan, a staggering percentage of newly reported STDs, particularly for gonorrhea and chlamydia, are among individuals who are between the ages of 15-24.
There seems to be a growing acceptance of casual hook-ups and having multiple sexual partners in this age group. Many of these casual hook-ups are fueled by drugs and alcohol, and, as a result, many times safe sexual practices are not used. Many articles note that the concept of hooking-up is not new, it has existed since the 1970s. However, the acceptance of hook-ups and the frequency of these interactions has dramatically increased.
Sexually Transmitted Diseases and Demographics in Romulus, MI
Unlike other bedroom communities that have managed to survive and thrive despite downturns in the Detroit economy (largely driven by the fate of the American automobile industry), Romulus has not been nearly as lucky. The economy has largely stagnated in the community, and retailers have fled the community for more lucrative locations. There are few businesses that operate in Romulus, even big box retailers, like Walmart, are a car trip away. This stagnation may help explain the high rates of STD infection seen in the community. Frequently, STD infection rates and economic vitality are inversely correlated. Higher income and greater levels of education generally result in safer sexual practices (even though this is not always true).
Other demographic characteristics of Romulus are not particularly notable. The population is relatively evenly distributed across ages, although there has been a small spike in recent years in younger individuals living in the community. As noted above, younger individuals (those in the 15-24 year old demographic) are often more likely to engage in risky sexual practices. This spike in younger residents may help explain the relatively high rates of chlamydia and gonorrhea infections in the community. The community is also racially diverse, whites make up a slim majority of residents of Romulus (approximately 50.5 percent in the most recent census). African-Americans are the next largest racial group in the community, accounting for more than 40 percent of the city's residents.  
Statistics in the last 20 years have shown that gonorrhea and chlamydia rates among African-American males remain significantly higher than among non-minorities, and these figures are even more skewed when looking at young people. Sadly, this racial difference has been incredibly persistent despite outreach and education efforts to make condom use more accepted and more the norm in these communities.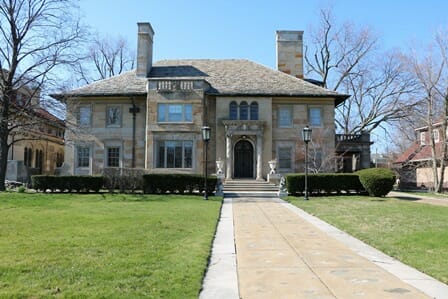 STI Testing Resources in Romulus, MI
Given that Romulus, Michigan is a quick 30-minute drive from Detroit, there are countless options for STI testing for local residents who are concerned about their sexual health. Many residents choose to have their testing at private doctors' offices; this choice affords privacy, as well as comprehensive services if a test comes back positive. However, the downside of this option is that it often comes with higher costs (depending on a patient's insurance).
Another choice for many local residents is the Planned Parenthood Clinic that is located in Livonia, Michigan. The drive to Livonia is even shorter than drive to Detroit; it generally takes less than 20 minutes on I-275 and at most times of day traffic is not bad on I-275 in that direction.  The Planned Parenthood Clinic in Livonia offers a wide range of services, including comprehensive STD testing and health services that are particularly focused on serving the unique needs of the area's LGBT community. Although Romulus does not have a large number of immigrants, Wayne County, as a whole, has many immigrants who are not native speakers of English. To fully meet these immigrants' needs, Planned Parenthood has a large team of interpreters and other staff to bridge these communication challenges.    
In addition to Planned Parenthood, other community organizations that are primarily focused on the areas' teenage population also offer testing. For example, there is comprehensive testing available at the Oakwood Inkster Teen Health Center (in Inkster, Michigan), as well as at the Taylor Teen Health Center (in Southgate, Michigan). Older individuals also have available testing options, such as for-profit clinics like STD Check and STD Test Express.
The downside of these for-profit clinics is that they tend to be more expensive than the fees charged at Planned Parenthood. Also, at Planned Parenthood, there is a well-trained medical staff available to help patients interpret test results and determine the treatment options that are best for them. These for-profit clinics are less focused on treatment — their primary focus is diagnosis. This can leave a newly diagnosed patient frequently feeling overwhelmed or scared.
For people who may not have the funds to pay for private testing, the Wayne County Department of Public Health offers low cost. However, the Department of Public Health does not offer the comprehensive screens that may be found at the other options highlighted above.  
Better Sexual Health in Romulus, MI
Sexual health is an important topic for everyone to consider. However, because it is a topic that makes some people uncomfortable to discuss, particularly with family members, it is often a topic that gets slid to the backburner. People delay getting tested for chlamydia, gonorrhea, syphilis, and HIV/AIDS. And left untreated, these diseases can spread to other members of the community or can have serious implications for the affected individual's health or long-term fertility. This problem is universal across the United States and also exists in the small bedroom community of Romulus, Michigan. In fact, in the community, problems like syphilis, gonorrhea, and chlamydia are affecting more and more people.
Rather than burying your head in the sand like an ostrich because the topic makes you uncomfortable, it is important to be proactive about being tested. But, simply being tested is not enough. It is also important that you educate yourself about safe sexual practices. And once you know, it is essential that you follow these practices every time you have sexual contact with another person.  
Here are the links to some of the sources mentioned above,
http://heroin.net/help/michigan/romulus/
http://www.michigan.gov/documents/mdch/Wayne_Jan13_408914_7.pdf
http://living.thebump.com/hooking-up-mean-teenagers-3149.html