STD Testing and Sexual Health Education in South Hill, WA
In the state of Washington, sexual health education is not mandated by the legislature, but HIV education is required. When sexual education is taught, it must meet a number of requirements. Instruction must include discussion about contraception, and instructors should stress abstinence.
Students in the South Hill area are served by the Puyallup School District. Puyallup High School, Emerald Ridge High School, Aylen Junior High, Ballou Junior High and Edgemont Junior High are among the schools in the district.
The Puyallup School District is committed to providing students with comprehensive sexual education instruction. The district recognizes that sexual education can help to reduce STD rates in the South Hill area. Reliable information about sexual health and human development helps students to make informed decisions about sex and reduces high-risk behavior that could lead to STDs or unintended pregnancies.
According to the district's policies, sexual health education resources must be medically accurate. Materials must be age appropriate, and topics should be tailored for each grade level. District policies states that sexual education programs should include " instruction about abstinence" and " instruction about contraceptives and other methods of disease prevention."These standards are meant to comply with statewide guidelines.
Sexually Transmitted Diseases and Demographics in South Hill, WA
STD statistics from Pierce County show that higher rates for Chlamydia are seen among certain demographic populations. In particular, women show the highest rates for Chlamydia. Young women between the ages of 15 and 24 years old had the highest incidence rate. Young people, in general, were disproportionately affected by Chlamydia. The rate for 20 to 24 year olds was 3,055.6 per 100,000 population in 2015.
National STD data shows that rates for Gonorrhea are similar among men and women. It is clear that teens and young adults have the highest rates. Among ethnic  groups, African Americans are disproportionately affected by Gonorrhea. In Pierce County, the rate for individuals aged 20 to 24 years old was 697.6 per 100,000 population. The rate for young women in this age group was especially high.
In the United States, Primary and Secondary Syphilis primarily affects men. Male-to-male sex is the most common means of transmission for Syphilis. However, in Pierce County, the highest rate was found among women aged 20 to 24 years old. Rates for the group increased from 2013 to 2014.
Pierce County had 63 newly diagnosed cases of HIV in 2014. In comparison, Washington state had a total of 446 cases. The county accounted for 14% of the state's total cases. These cases were predominantly found among men. In fact, 85% of the newly diagnosed HIV cases were reported among men. Among ethnic groups, African Americans showed the most cases.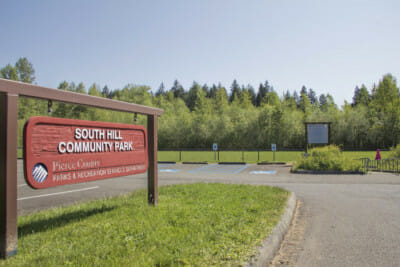 STI Testing Resources in South Hill, WA
If you're searching for STI testing resources in the South Hill area, consider the following health clinics and testing facilities.
Planned Parenthood of the Great Northwest is known for delivering high-quality STD testing and treatment services. At the Puyallup Health Center, testing services are available for Chlamydia, Gonorrhea, Syphilis, Herpes and HIV. Health professionals at the clinic use both urine and blood-based tests. The clinic is located at 702 30th Avenue SW in Puyallup, which isn't far from South Hill.
For reliable STI testing resources from the community health department, consider visiting the Tacoma-Pierce County Health Department's Communicable Disease Control unit. The health department offers confidential STD testing for residents of Tacoma and Pierce counties. The health clinic is located at 3629 S D Street in Tacoma.
Sea Mar Community Health Centers is a regional health network in the South Hill area that provides quality healthcare services. The Puyallup Medical Clinic is located nearby at 10217 125th St Ct E in Puyallup.
If you prefer an urgent care facility, visit MultiCare Indigo Urgent Care in Puyallup. The health center is located just minutes from South Hill. Testing resources are available here for Chlamydia, Gonorrhea, Syphilis and HIV.
Better Sexual Health in South Hill, WA
Taking care of your sexual health requires smart and responsible decision making. Practicing safe sex and getting tested regularly for STDs are two ways you can protect your health. Getting tested is quick and easy, and doing so can make a difference for your overall health.
There a tons of great resources for STD testing and sexual education in the South Hill area. Testing for Chlamydia, Gonorrhea, Syphilis and HIV is available through the Tacoma-Pierce County Health Department and local Planned Parenthood clinics. Several other health clinics and urgent care facilities offer these services as well.