Looking for a Low Cost or Free STD Testing Clinic? Let's See What's Available in Minneapolis, MN
Data on STDS and how they're affecting the community might be hard to locate, but not inexpensive and free STD tests. There are centers, clinics and labs in almost every neighborhood. This alone should clue residents that they should be concerned.
On both sides of the river, the health department manages clinics that screen for STDs and other viruses. They recommend utilizing the one in your zip code. Not only can this reduce your wait, it makes it easier for them to track rates in that specific neighborhood. If you're uncomfortable thinking of yourself as a statistic, you might want to look for a private clinic.
Since sexual and reproductive health are basically one in the same, it's not astonishing to find affordable screenings and aftercare at the First Care Pregnancy Center. You will have to make an appointment, and there's no guarantee that it'll be at a convenient time. Urine, blood and oral tests are offered at all 4 locations. Insurance is welcome, and this is a good thing, since you will be required to make another appointment 7 days after the first.
The University of Minnesota Physicians are trying to keep students, faculty and others safe and healthy. Their clinic in the West Bank Office Building has helped individuals of all ages and ethnic backgrounds. Sensitivity and discretion are paramount, though there's always the chance of meeting a fellow classmate.
Teens have a safe place to go at the Annex Teen Clinic on 42nd Avenue. Parental permission will be needed for some procedures, but it's a great source of desperately needed information. Hours change often, but the lobby doors normally don't close till after 5pm. Bloomington Public Health Clinic provides the same services for anyone ages 12 up to 25.
Affordable or Free HIV Testing Clinics Near Minneapolis, MN
If you're already being checked for STIs at a public or private testing center, chances are they can also screen you for HIV and AIDS. Sometimes it's automatic, and others you have to ask. Charges also vary according to policy.
Planned Parenthood is one of the "go-to" places for mostly free testing. The staff is well trained and there is a professional to talk too but remaining unobserved going in and out isn't as simple as it sounds. Not all insurance agencies work with the organization, which can be a hassle when it comes time to pay the bill.
Park Nicollet is a commercial clinic, but it does have some advantages. Medicaid and Medicare are willing to work with them and cover some procedures, along with most major insurance carriers. What is covered will depend on your policy, and what you are having done. HIV counseling after the test is another perk that patients appreciate. Treatment is available for HIV, AIDS and TB.
Taking care of yourself doesn't have to be expensive. There are private free HIV test clinics that are waiting for you to contact them.
STD Testing and Sexual Health Education in Minneapolis, MN
Are you worried that your child might be learning too much about "the birds and the bees"? Don't be, since sex-ed isn't regulated the only thing you need to worry about is that kids aren't learning what they need to know.
HIV and STDs are briefly discussed in health class, though not everyone hears it. Parental permission is necessary for participation, and it's not always easy to get. Some prefer that the subject is never broached, and other parents never see or know that there is something important from school that they need to sign.
For those that are interested in learning about their reproductive health, Planned Parenthood and others have made sure that there is plenty of material going home with their clients. Some even send patients home with handy kits that include condoms and instructions on how to use them.
Even though the testing and sexual health clinics might be uncomfortable for some, if they want to educate themselves these are currently the best places to start.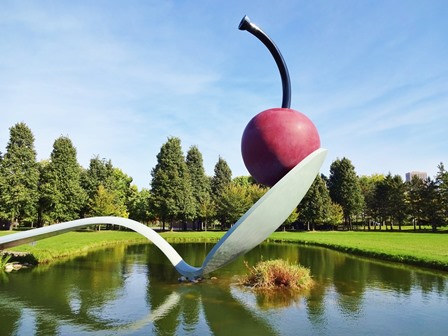 Better Sexual Health in Minneapolis, MN
Marvel at a giant blue chicken in the Sculpture Garden or get an inside view of what it was like to work in the flour industry. If this doesn't appeal to you, there's plenty of other sights and activities in Minneapolis.
In a city where "purple" is a favorite color and contemporary art is placed around town, it's hard to figure out why STDs are constantly swept under the rug. Don't be the last to make a change, join the movement and help get sexual infection rates down with a quick oral, blood or urine test.