Some in Minnesota consider sex education to be a growing issue. They feel that there is little or no positive impact on sexual behavior due to the way students are taught in the sex education classes. It is not unusual for a student to follow a sex education program in Minnesota that covers abstinence only.
A requirement in Minnesota is that sex education must teach abstinence only until marriage. That is the only completely effective way to protect against unplanned pregnancy, STDs/STIs, and sexually transmitted HIV/AIDs. A sex education class must be taught so the information is technically correct. What is not required is teaching about contraceptives. The teacher must have sex education training. For some these state level sex education requirements are a problem.
Some find it a problem that there is not a statewide, district wide, or even school wide curriculum for sex education in the state. Teachers can create their own curriculum. You could attend a school and learn something completely different about reproductive health and sex depending on your teacher.
Some feel it is important to create a statewide and inclusive curriculum. This would be for comprehensive sex education throughout the state.
Some point to the large number of unintended pregnancies in the state as telling. This large number shows that sex education in the state is not effective. We also note reports of sexually active students who report in high numbers that they do not use a condom. Rates of STDs further show the state does not provide effective sex education.
Demographics play a role in the high STD rates in your city, surrounding region, and the state of Minnesota. Here are some demographics of note.
Teens and adults aged 15 to 24 are the demographic most likely to get chlamydia or gonorrhea

Communities of color and American Indians saw higher rates for chlamydia and gonorrhea, compared to whites

Women of childbearing age saw a sharp increase in syphilis infections

Women who are African American and Indian showed high rates of syphilis

Men who have sex with men showed high rates of syphilis
Chlamydia is the nation's most widespread sexually transmitted disease. It accounted for roughly 80 percent of all Minnesota STDs. This was a 7 percent increase in just one year. Public health officials said they are particularly troubled by the rapid spread of chlamydia, which has increased 61 percent in the last decade.
People may not know they have chlamydia as there are no symptoms. That would contribute to the increasing rates. There is also a decline in the overall number of people receiving STD screenings.
Every year when the STD report comes out for Minnesota, the numbers get worse. People need to know this. They need to get tested and treated.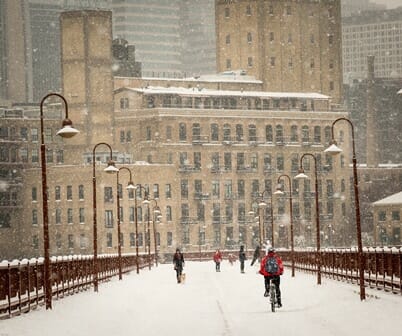 Fortunately, there are facilities in your city and area that can help you with STD education, testing, and treatment including the Planned Parenthood/Brooklyn Park facility.
This Planned Parenthood/Brooklyn Park location a place that can help you with STD education, testing, and treatment. The staff is trained to help you with your situation and the Brooklyn Park facility offers STD testing, diagnosis, and treatment including chlamydia, gonorrhea, and syphilis.
Additionally, they provide testing and diagnosis for HIV and testing, diagnosis, and treatment for bacterial vaginosis, genital warts, herpes, and trichomoniasis. STD prevention services include condoms, HPV (Gardasil) vaccines, hepatitis B vaccines, and STD/safer sex education. The facility tests for gonorrhea and chlamydia using a urine sample. If this test shows an infection, then you will get treatment and an explanation of how your partner can be treated. Rapid HIV testing is done by swabbing the inside of your mouth with results available in 20-40 minutes.
A hospital such as Abbott Northwestern can also help especially if you feel embarrassed going to Planned Parenthood. Remember also that you can go to a counsellor or nurse at a public high school such as West Lutheran High School and Wayzata High School.
A service such as STD Test Express or Any Lab Test Now can also help. The Any Lab facility advertise that they provide discreet lab testing in a comfortable setting. If you are concerned and not sure about what to test for, this group can help.
This service can also help you if you are told you have been exposed to a specific disease. STD testing can include a Comprehensive STD Panel. It can also cover separate testing for Chlamydia and Gonorrhea; HIV; Hepatitis Panel or Hepatitis A, Hepatitis B, and Hepatitis C; Herpes (HSV1 and HSV2); Syphilis; and Trichomonas Vaginalis – Male or Female. You can call to schedule an appointment or schedule one online.
Consider also that you could go to an urgent care center. One of the less talked about but highly used services of such a center is STD testing. Whether testing for Chlamydia, Gonorrhea, Hepatitis B, Hepatitis C, Herpes, HIV, Syphilis or any other disease or condition, these STD screenings you can use to help you.  You can find online reviews about these centers to help you decide to use one including a service in your city.
You can also work with an organization such as CRUSH to help. CRUSH is a group of professionals, youth, and community members who are concerned about rising rates of chlamydia and STDs in the Minneapolis area. The group has a focus on outreach efforts for urban teens and young adults. It has organized STD screenings at Twin Cities locations.
Over 100 young adults have used their services for testing and treatment for chlamydia with chlamydia treatable with antibiotics and untreated possibly leading to infertility.
Whether you go to Brooklyn Park/Planned Parenthood, a high school counsellor or nurse at an area high school such as Brooklyn Park Senior High, an online service, or a clinic or hospital, you can find in your area information about STDs, testing, and treatment.
While STD rates are high in your city and area, help is available in your area in the way of testing and treatment that is confidential, discreet, compassionate, and effective. Consider how the staff at these facilities is trained to help someone like you, especially with the staff at Brooklyn Park/Planned Parenthood or any other facility reminding you to check your health, improve it, and keep yourself healthy by always using a condom to practice safe sex.
Here are links to resources mentioned above.
https://www.allinahealth.org/abbott-northwestern-westhealth/