There is a high correlation between the states with the highest rates of STD infection and those with the least comprehensive sexuality education programs. The foundation of STD education in South Carolina is found in its 1988 Comprehensive Health Education Act (CHEA) provides the basis framework for the sex education system. The CHEA requires school districts to provide 750 minutes of sex education to each student in high school and the school districts to form Health Education Advisory Committee. CHEA does not allow the discussion of "alternate sexual lifestyles from heterosexual relationships … except in the context of instruction concerning sexually transmitted diseases." Teachers are not allowed to give out samples of contraceptives or information about Planned Parenthood.
There are a number of laws that stigmatize those that are infected with STDs. In South Carolina, people who know that they are infected with HIV/AIDS or another sexually transmitted disease (STD) and expose other people to the disease can be convicted of criminal exposure or even assault.
State STD Fact Sheets shows that 15 to 24 year olds account for 67 percent of gonorrhea infections, 76 percent of chlamydia infections and 42 percent of primary and secondary syphilis infections. The CDC states that 30.2 percent of people living with HIV in the state are ages 13 to 24, Major factors in the infection rate in young adults are the social acceptance of combining alcohol and drugs with social activity, and the exponential growth of on-line dating applications like Tinder, Grndr and Cupid.
Recent research on comprehensive sexuality education has shown that young people who receive complete and accurate information about condoms, abstinence, and contraception were not more likely to be sexually active or be infected by an STD, but were dramatically less likely to be involved in teen pregnancy. They learn that along with regular HIV testing, Herpes testing is very important since viral infections such as Herpes can be transmitted through asymptomatic casual contact with someone that has no visible symptoms.
According to the U.S. Census, in 2014 the state had a population of 4,896,146, which is an increase of 5.85 percent from 2010. Approximately 36,401 people came to the state through immigration from outside the U.S.. Between 2000 and 2005 the state's foreign-born population grew faster than any other state. Approximately 39 percent of the state's residents live near or below 200% of the federal poverty level, and among all states it ranks 13th in the percentage of persons who are uninsured. More than seven out of every ten newly diagnosed HIV infections occur among African Americans, though they represent only a third of South Carolina's population.
The state is one of the most religious in America, with 53 percent of people referring to themselves as very religious and the majority of those being Protestant. An August 2011 Public Policy polling survey found that only 21 percent of the state's voters thought that same-sex marriage should be legal, 29 percent supporting civil unions but not marriage and 51 percent favoring no legal recognition at all.
With very religious population, a high poverty rate and a low rate of health insurance coverage, it is not surprising that the population at risk for STD infections. These factors result in high STD rates attributed to a lack of both medical visits and STD testing.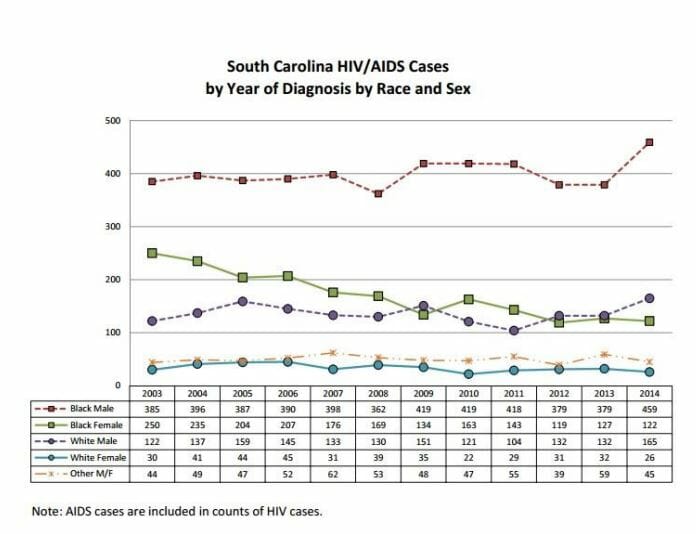 The state does not get the same attention as some of the southern states, but it has a vibrant culture all its own. The high rate of STDs shows that you need to be aware and tested on a regular basis. You should not worry about passing something on to a partner, or the thoughts of spending hours waiting to be seen at a free STD clinic keep you from STD testing. There is a choice that lets you make an appointment for same day STD testing, avoid the hassles and save precious time. Invest 20 minutes for your health and the health of the ones you love, then get ready for an evening out to enjoy great dry rub barbecue.
https://www.cdc.gov/std/stats/">https://www.cdc.gov/std/stats/
http://www.scdhec.gov/Health/DiseasesandConditions/InfectiousDiseases/HIVandSTDs/DataandReports