STD Testing and Sexual Health Education in Alpharetta, GA
According to Georgia law sexual and HIV education must emphasize abstinence until marriage. The law does not preclude giving students information about STIs and how to avoid them. However, there are several resources in your neighborhood can help you get information about STDs, testing, and treatment that includes Alpharetta High School where you could talk to a counsellor or nurse. Private schools in the area include the Lionheart School, King's Ridge School, and Bridgeway Christian Academy where you can also get information about STDs.
Another resource for information about STDs is the Cobb Health Center/Planned Parenthood, where people are trained to help someone like you. This health center is part of an organization that states it is the right of every person to get reliable and accurate information regardless of race, age, income, marital status, religions, residence, or sexual preference. Northside/Alpharetta Medical Campus is another place where you can get information about STDs, testing, and training.
An especially good resource in your area to get information about HIV for African-American women is through the Health Education, Advocacy & Prevention Program (HEAP) and SisterLove. The mission of this group in the early days was to provide HIV prevention education and outreach to women of color in metropolitan Atlanta. Currently the mission of the group has grown but their focus is still the fight against HIV/AIDS and how to best get out prevention education and outreach.
The primary mission of the group is eradicating the impact of HIV/AIDS and other reproductive health challenges on African-American women and girls, their families, and communities through education, prevention, support, and human rights advocacy. The group has helped African-American women women and women of African descent in metro Atlanta and the state of Georgia. The group has a grassroots origin and even makes what they call house calls. Facilitators can go to locations requested by participants. They provide information in a comfortable setting.
Sexually Transmitted Diseases and Demographics in Alpharetta, GA
Demographics play a role in the rates of STIs in your city, county, and state. While your city has a high median household income over $90,000 a year, this does not coincide with a low rate of STDs in your area as your rate of chlamydia is much higher than in the United States total and your rate of gonorrhea is higher than the state and the country with the statistics on primary and secondary syphilis even worse.
Your county was among the top counties nationwide for total reported gonorrhea cases consistent with the highest gonorrhea rates concentrated in the South.
Reasons for these high STI rates in Fulton County include that education is not causing people to get tested and treated. Another contributing factor could be that state and local governments in your area are addressing budget challenges by cutting STD prevention and treatment resources. Resources are stretched thin so that is when we see people slip through the public health safety net.
A reduced fear of dying from HIV infections among young men who have sex with men also can contribute to high rates of HIV in your area and state. Pre-Exposure Prophylaxis, or PrEP allows HIV-negative people who are at high risk to prevent infection by taking a pill everyday.  A combination of drugs used to treat HIV keeps the virus from taking hold in the body. This accounts for the reduced fear of dying from an HIV infection contributing to the high rates of HIV.
Also contributing to the HIV infection rate could be that IV-drug-use rates, particularly for heroin, with this being a national trend. Sharing a needle puts you at risk of an HIV infection.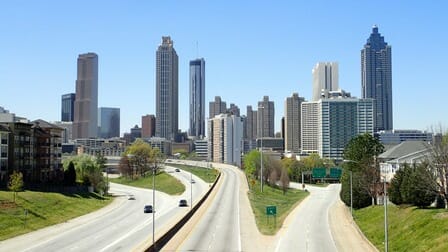 STI Testing Resources in Alpharetta, GA
You can get information about testing from an area school such as the the Alpharetta High school or a private high school such as the Lionheart School or Hayden's Academy. The Cobb Health Center/Planned Parenthood could be another ideal source of information. They offer STD testing, diagnosis, and treatment including chlamydia, bacterial vaginosis, genital warts, gonorrhea, herpes, HIV, syphilis, and trichomoniasis. They also offer vaccines and treatments based on test results.
Northside/Alpharetta Medical Campus is another place where you can get information about STDs, testing, and training. If you are embarrassed on not comfortable going to a clinic that handles STDs only, this Northside/Alpharetta Medical Campus could be a good option as it does not deal with STDs only, and no one will know why you are there.
Clinics in your area can handle issues related to chlamydia, gonorrhea, syphilis, HIV, HPV, and hepatitis, plus herpes and genital warts, all issues in Fulton County, with MedPost Urgent Care a place you can go. They offer STI and STD testing. They make sure you get results from your tests promptly. They also offer treatment plans based on test results. The tests are confidential. They keep your privacy in mind. The office is open on weekends, weekdays, and evenings.
Facilities in your neighborhood in Fulton County have staff trained not to judge but instead to help with Quest Diagnostics as an example. You pick the tests you need, go to a lab, get your results, then talk to a doctor at Quest. The process is quick and private with you choosing when and where to get tested instead of fitting into a group's schedule.
You will not have to deal with a crowded waiting room. With this online clinic, you get medical care in an online setting.  The group teams with a network of doctors trained in online medical care. They are available seven days a week. They review results over the phone and answer questions. They can also write prescriptions and refer you to another specialist if needed. Reviews for the service are good concerning privacy and speed with over 100,000 people treated.
Better Sexual Health in Alpharetta, GA
Whether you go to the Cobb Center/Planned Parenthood or a private of public school such as Alpharetta High School, you can find information about STDs, testing, and treatment. You can also contact an area hospital such as the Northside/Alpharetta Medical Campus.
While STD rates are high in your area and Fulton County, help is available in the way of testing and treatment that is confidential, discreet, compassionate, and effective.  Resources are available for you to check your health, improve it, and keep yourself healthy by always using a condom. If you have had unprotected sex you can find in your neighborhood in Fulton County resources to help you get tested, shame free, even if you have no symptoms.
Remember to put your health first, get tested, and if needed get treated all in your neighborhood in Fulton County. Use a condom to prevent STDs. Know your partner. You will be happy that you did.
Here are links to resources mentioned above.
http://www.northside.com/Alpharetta-Medical-Campus
http://school.fultonschools.org/hs/alpharetta/pages/default.aspx
http://www.sisterlove.org/health-education-advocacy-prevention-program/