The local health department is diligent in reporting vital health statistics to the Center for Disease Control. The CDC maintains a national database for analyzing the overall health of the nation in detail. They have no interest in knowing specifically who has tested positive for an STD, but rather, the characteristics of the populations who do. This is so they can help to pinpoint who has the greatest risks based upon current trends. The following table gives the current figures for the numbers of persons who have tested positive for specific STDs per 100,000 in population.
Chlamydia, Gonorrhea, Hepatitis B and C, HIV and Syphilis numbers are a cause for concern. The rates are rising and health department officials are working to develop strategies to bring the numbers down. The city has local STD clinics available for private testing services. Free STD centers offer testing at reduced or no charge for clients who meet the income guidelines. The ordering process is easy and follow up with a local lab takes only between fifteen to twenty minutes. After this, results are on their way and it really is just as easy as it sounds.
Chlamydia- 394.6
Gonorrhea- 59
Syphilis (primary and secondary)- 6.9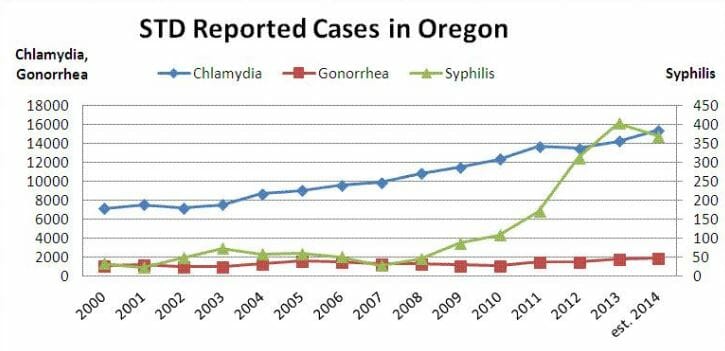 The state of Oregon is ranked as being tenth in the nation for Syphilis rates. This is an alarming statistic and this type of news is never good. It does, however, have lower rates than most for Chlamydia and Gonorrhea. The rates above show the numbers based on those who have had STD testing. Health department officials believe that there are many people in the region who are at risk, but have yet to complete testing. If everyone in Gresham who is at risk would get tested, the numbers would most likely increase dramatically.