STD Testing and Sexual Health Education in Normal, IL
Illinois Public Act 98-0441 requires schools that teach sex education in any of grades 6 through 12 include instruction on both abstinence and contraception. Schools are to teach with materials that are medically accurate and evidence based.
The act also required that the Illinois State Board of Education provide resources to assist schools. This is to secure or adapt instructional material in sex education to comply with the law.
All schools in the state that teach sex education must include accurate information about birth control and STDs. There are over 800 school districts in Illinois and no state agency tracks exactly what kind of sexuality education, if any, each provides.
Some in the state are concerned that students are not getting enough information about important sex education topics. The goal of the law is to ensure that students get medically-accurate and age-appropriate information about how to protect themselves against pregnancy and STDs.
Illinois Senator Heather Steans points out that abstinence is the only 100 percent effective way but by the end of senior year in high school about two third of student are saying they have had sex. A recent study across the state of Illinois showed the quality of sex education is not equal in all classrooms. The study looked at topics such as abstinence until marriage, HIV/AIDs, other STDs, and contraception.
Only about 65 percent of classrooms covered all four topics. The study also found that 93 percent of Illinois schools offer a form of sex education.
The topics of HIV/ AIDS and abstinence were most frequently included in Illinois classrooms.  Topics including contraception were less frequently discussed.
Illinois law sets certain standards for sexuality education in the state. In grades six through 12 students must receive instruction on the prevention, transmission, and spread of AIDS.  Any school teaching sexuality education must emphasize abstinence.
Sexually Transmitted Diseases and Demographics in Normal, IL
Demographics play a role in the number of STDs in your city and area with higher than average rates compared to the country and state. Concerning syphilis, we see an increase in the country in 2015 with 287 cases.
Increases in syphilis cases in Illinois in 2013 to 2015 were for men having sex with men, men having sex with women, and women.
In general, concerning STDs, poverty and drug use can be part of the reason for high rates. Poverty can lead to homelessness and this can lead to being forced to have sex to have a place to stay.
Victims do not feel that can discuss an STI status or use of a condom in such a situation. With drug use if you are addicted you may not have the money for your next fix. This means you can feel forced to have sex to get money for drugs.
While the number of STIs are the highest among poor black and gay males, we now see these STI numbers grow in more affluent areas. It is affecting young females who are white.
As we see heroin spread we see those who are addicted put themselves into a dangerous situation to get high. Health officials continue to address the high HIV rates among young black men in the area who have sex with men.
Some of the people being affected by HIV today are too young to remember when the disease was considered to be a death sentence. They are seeing people living longer with the disease and believe they will be all right.
There are trends, but in general, risk for STDs is highest among people who have multiple sex partners or who don't use condoms consistently so that is a factor in why rates are so high. Areas with a relatively high rate of poverty and unemployment feed an environment that contributes to rates of STD prevalence.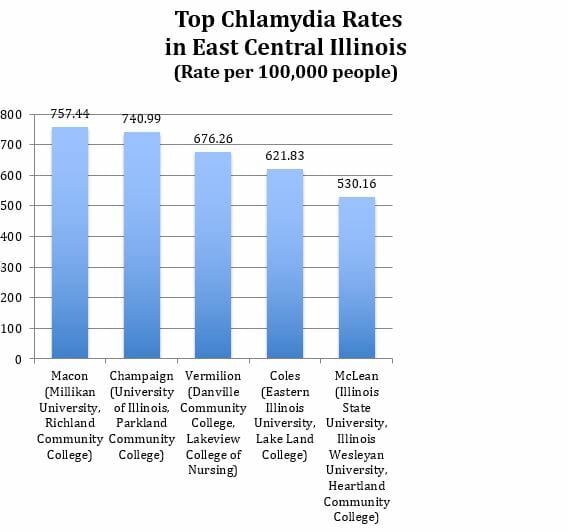 STI Testing Resources in Normal, IL
STI testing resources are available in your city and surrounding areas. For example, the Bloomington Health Center/Planned Parenthood facility could be a place for you to go for information, and testing is for both males and females.
It is five miles away from your city. Covered is testing for chlamydia, gonorrhea, herpes, syphilis, and other STDs. The staff is trained to work with someone in your situation, trying to protect your privacy and confidentiality.
HIV testing is done with a blood sample from a finger stick, and If are are 19 to 26 with no health insurance, you could get help for an HPV vaccine (Gardisil) at no charge. Medicaid is accepted plus you can book your appointment online.
A service of urgent care centers and walk in clinics is STD testing. This testing includes chlamydia, gonorrhea, hepatitis B and C, herpes, HIV, syphilis and other conditions. A hospital could also be a good choice if you are embarrassed to go to Planned Parenthood.
You could also go to an area hospital or urgent care center. A private service is another option.
Illinois State University offers STI testing. Student Health Services offers two ways to get tested for STIs.
The first way is to make an appointment with a medical provider. Do this if one or more of the following is true.
You are having physical symptoms consistent with an STI such as rash, discharge, or sores.

You have had known contact with a person diagnosed with an STI.

You have been tested for STIs within the last 3 months.

You have concerns about an STI other than Chlamydia, Gonorrhea, HIV or Syphilis.

You prefer seeing a medical provider for this.
The second way Is to make a laboratory only appointment. This is an option if you do not have any of the concerns listed.
The McLean County Health Department is another option. Clinic offerings include:
HIV Testing

Rapid HIV Oral Testing

Chlamydia Testing

Syphilis Testing

Gonorrhea Testing
Note that no one will be refused services for gonorrhea, chlamydia, syphilis, or HIV testing based on inability to pay or not insured. Be aware also that brown bag, urine-based STI kit tests are for gonorrhea and chlamydia testing only. Brown bags are available at the McLean County Health Department.
Better Sexual Health in Normal, IL
Whether you go to Planned Parenthood, a high school counsellor or nurse at an area high school, or a clinic or hospital, you can find in your area information about STDs, testing, and treatment. While STD rates are high in your area, help is available in your city in the way of testing and treatment that is confidential, discreet, compassionate, and effective.
Consider how the staff at these facilities is trained to help someone like you, especially with the staff at Planned Parenthood or any other facility reminding you to check your health, improve it, and keep yourself healthy by always using a condom.
You can go to a counsellor or nurse for information about STDs, testing, and treatment, including going to a school such as Normal Community High School. You can also get such information from a medical facility such as BroMenn Medical Center. Here are links to resources mentioned above.