When people go into any type of medical or health care provider for testing, demographic and details about the type of testing completed along with the results are recorded and shared. Your privacy is strictly protected and your name or other information which could identify you is never shared. Health officials are more interested in general facts such as your area of residence, gender, age, ethnicity and financial background.
The reason for this is that this data can help them to determine which groups of people are the getting certain types of diseases with the most frequency. It is used to pinpoint risk factors and in figuring out who is at the most risk. Local health departments work with the Center for Disease Control by contributing all of this information into a national database. This makes it easier to compare the rates of one city with another and see where the highest concentrations of infection are. The following figures show the number of STD cases for selected types per 100,000 in population in this city.
Syphilis- 5.5
Gonorrhea- 119.8
Chlamydia- 471.9 overall and 674.4 for women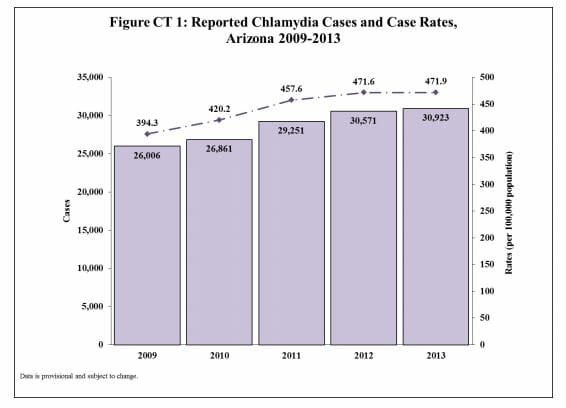 This region differs from national averages for Chlamydia infections. Nationwide, the statistical information shows that women most often have twice the rate of infection as men do for this particular type. In Arizona, the rates are three times higher than those for men, raising significant concern for reaching epidemic proportions.
Alaskan Natives, American Indians and Blacks have consistently shown the highest rates for the last decade. Over 80% of cases are under the age of 30 with those age 20 to 24 showing the highest rates followed by the 15 to 24 group.
Gonorrhea rates are also on the rise with males who participate in male to male sex having the highest rates. In addition, studies show that they are more likely to present with multiple additional infections including HIV, Chlamydia and Syphilis. The risk for this group is significant in Maricopa County.