Looking for a Low Cost or Free STD Testing Clinic? Let's See What's Available in Tempe, AZ
When you are ready, knowing where to go is extremely helpful. There are advantages and pitfalls with each of these public opportunities so choose carefully based on your unique needs. If none of these meet your criteria, private testing labs should be taken into consideration.
Planned Parenthood has services for men, women, children and families. Medicaid and other insurance can be used, but it won't take care of the cost for every procedure. Along with vaccinations, you can get screened. Since there is still controversy, you might meet protesters out front and this can be unnerving. There is security so safety isn't a concern, but your privacy could be compromised. On Baseline Road, they are easy to find and accept online appointments.
If you are by St. Luke's Hospital, Mountain Park Health Center is in Suite 312 on S. Mill Street. Patient enrollment is necessary, and costs can be high depending on insurance status. Testing for all major STIs and inoculations against Hepatitis B and HPV are some of the services they provide to the general public. Operational hours for the clinic tend to be rigid and walk-ins are rarely seen by a professional.
The Guadalupe Family Health Center is multilingual and caters to Tempe's expansive Hispanic population. However, anyone can come in for testing regardless of their ethnicity. STD and TB tests, along with treatment and some vaccines are here. Hours are weekdays only, and they close well before the evening commuter rush. While they are an integral part of the community's healthcare, their registration policy can limit the amount of privacy you feel you have.
UrgentCare is one of the top names in community ERs, and while they can set a broken bone there's a lot more that they can do for neighborhood health. STD screenings are just one that many might not know about. You can walk right in, give your name to the front desk and no one will ever realize the real reason you are there. Anonymity might be easy, but the wait time can take most of the day. With 10 plus facilities close by, you shouldn't have trouble finding one near you.
Affordable or Free HIV Testing Clinics Near Tempe, AZ
Testing for diseases that are transmitted through sexual activity can include HIV and AIDS screening, but not always. It all depends on your chosen procedure. Since it is always best to be safe and not sorry, ask to make sure. If you're already there, it just makes sense to take care of it all at once.
Hospitals have always been on the front lines in the fight against this autoimmune virus. The clinic at St. Luke's is one, along with the Banner Desert Medical Center on S. Dobson Rd. There's also Banner Behavioral Hlth Hospital, on E. Earll Dr. Screening, medicine, referrals and support are here, except that first you must become a patient in their system.
This doesn't necessarily mean that your privacy is voided, only that it will be expensive if you're not carrying insurance. This could present another problem, not all pay for testing.
If this doesn't affect you, and you are by E. Osborn Road the Scottsdale Healthcare-Osborn has an HIV clinic that can take care of your needs. Their hours are firmly set so plan accordingly. One reason why you might want to visit a hospital HIV clinic is to have your infant checked or treatment started.
ENT Specialists of Arizona have an office at Suite 301 on S. Mills Ave. They are billed as one of the top AIDS and HIV physicians, and this pertains to everything from testing to positive result support, counseling and medical treatment. Once again, patient registry is a must and hours are not convenient if you are a full-time employee.
There are better alternatives to these public options, private labs and clinics are open later and often include sliding fees.
STD Testing and Sexual Health Education in Tempe, AZ
Education on safe sex and STDs won't be found in most schools. If it is, it will be limited. Abstinence is strongly encouraged and students are left in the dark when it comes to using contraceptives.
Planned Parenthood's facility sponsors classes on prevention for families and individuals. Condoms are often discreetly placed by the door, and they're free for anyone in need of one. Pamphlets and other reading material can be had, and experienced counselors can answer your questions.
Even though their main office isn't in Tempe, Ryan White Programs are still making a difference. Their presence is felt at many HIV testing and care centers, and they are determined to educate everyone. Seminars can be scheduled for groups of any size. Programs are open to anyone that needs help or wants to learn more. There is also a website that contains valuable information, just "google" the Ryan White Foundation.
The Guadalupe Family Health Center not only provides medical services to the Latino community, but education as well. With language barriers removed it's easier for information to flow smoothly. Sensitize to cultural beliefs, they are making a difference in the mainly Hispanic neighborhood.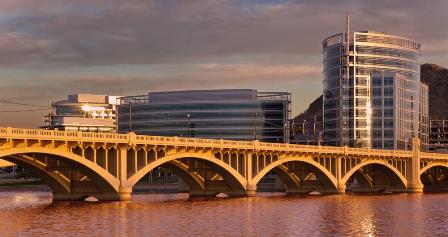 Better Sexual Health in Tempe, AZ
Striking scenery, music, art and shopping make you think that Tempe has everything. This is true, but it also comes with STDs. No matter who is blamed the fact remains the same, people are getting these infections. What many don't know is that this can be avoided.
Instead of taking an unnecessary chance, have an HIV, AIDS and STI test. Wander in and out without any fuss, and hit a festival at Beach Park.