STD Testing and Sexual Health Education in Chicopee, MA
Massachusetts is one of the few states in the country that does not requires schools to teach topics related to sexual health. It is 1 of 26 states that do not mandate sexual health education and 1 of 16 states that do not mandate HIV education. Sexual education tends to be administered at the local level.
There are about 8,000 students in Chicopee and 15 public schools operated by the Chicopee School District. Edward Bellamy Middle School, Fairview Veterans Memorial Middle School, Hampden Charter School of Science, Chicopee Comprehensive High School and Chicopee High School are among the schools in the district.
The Chicopee School District allows students to opt-out of sexual health education. Parents must give authorization for their children to skip this instruction. According to the policy, the district will "afford the parents or guardians of all students the flexibility to exempt their child from any portion of the health curriculum that may primarily involve human sexual issues."
Sexual education resources are also available from the Massachusetts Department of Public Health. The STD HIV Prevention Training Center provides instruction  to health care providers in the "diagnosis, treatment, and management of sexually transmitted diseases and the prevention of Human Immunodeficiency virus (HIV)." The program aims to create informed partners in the fight against STDs.
Sexually Transmitted Diseases and Demographics in Chicopee, MA
The statewide rate for chlamydia in 2015 was 352.0 per 100,000 population. Certain demographic groups were more affected by the spread of Chlamydia. The female rate was almost double the male rate. The rate among women was 442.9 per 100,000 population, compared to 255.5 per 100,000 population among men. Teens and young adults showed the highest rates across ethnic groups.
Massachusetts had a total of 3,688 reported Gonorrhea cases in 2015. Since 2011, the male rate for Gonorrhea has steadily increased. From 2011 to 215, the rate double from 40 to 80 per 100,000 population.
The 20-24 age group showed the highest rates of Syphilis, followed by th 25-29 age group. The Gonorrhea rate in Massachusetts is highest among men. The male rate has been on the rise since 2013, increasing approximately 35% over that period.
The number of newly diagnosed HIV cases in Massachusetts has slowly decreased over the past ten years. Similar trends are seen throughout the United States. A majority of the cases in Massachusetts are found among males. For males, the highest rate is seen in Whites. However, for females, the highest HIV rate is found among African Americans.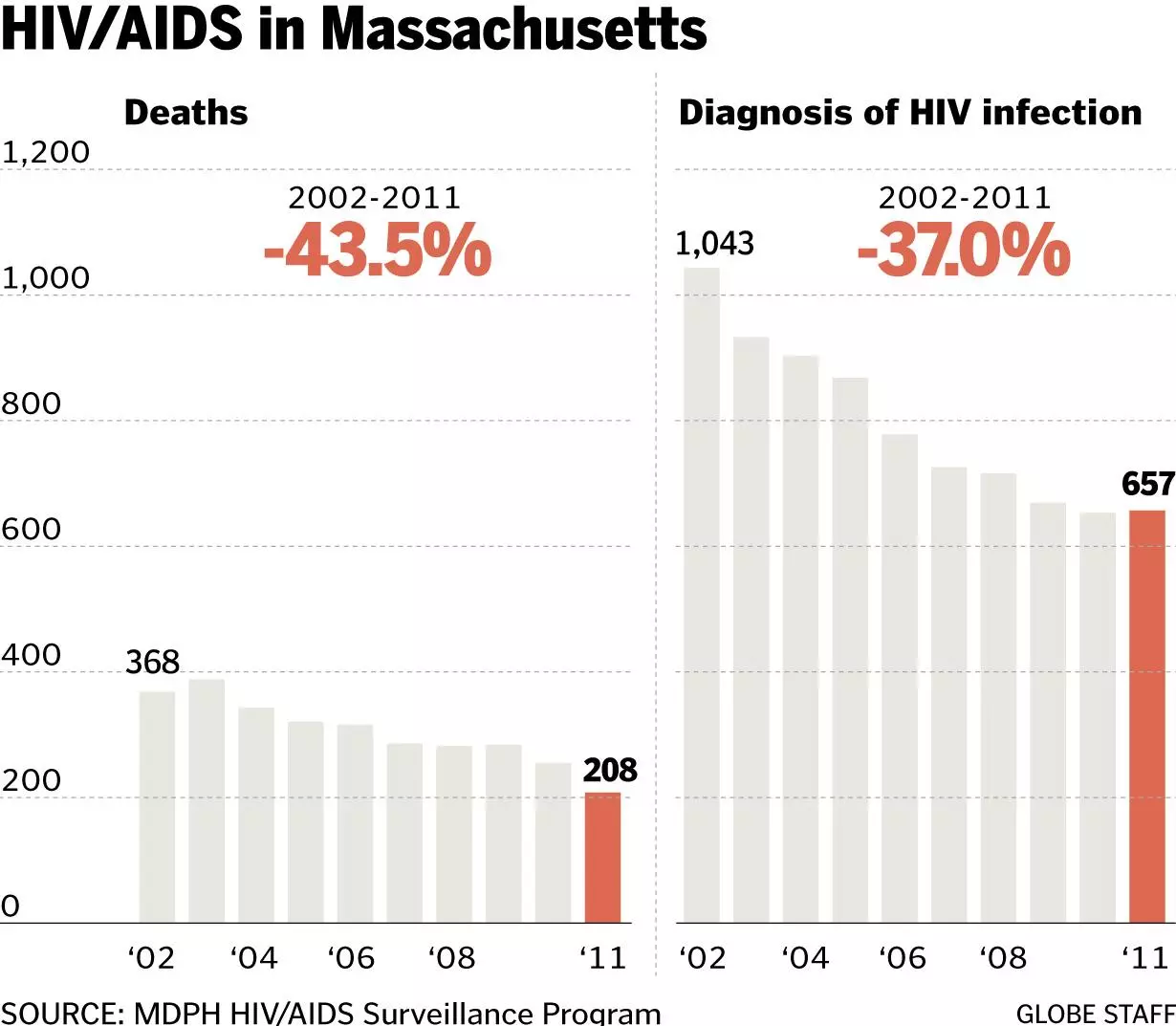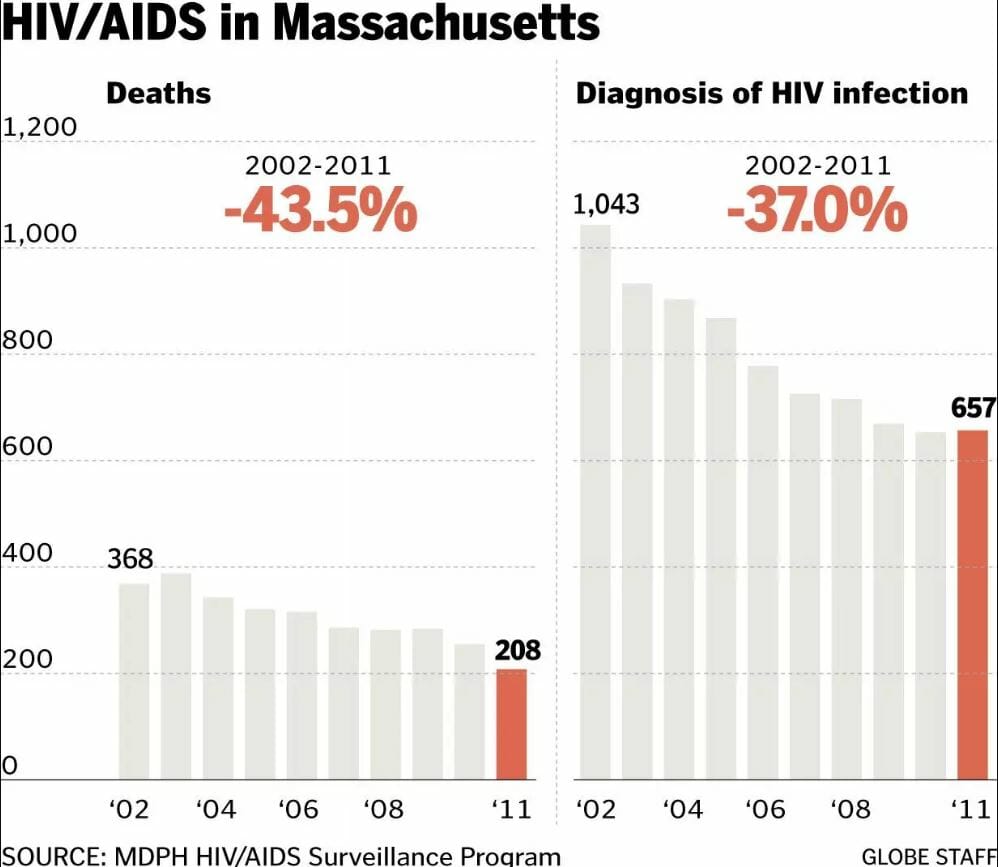 STI Testing Resources in Chicopee, MA
The Massachusetts Department of Public Health works to improve public health and wellbeing in Massachusetts communities. In particular, the Division of STD Prevention (DSTDP) is focused on reducing the spread of chlamydia, gonorrhea, and syphilis. DSTDP's clinical services include community screening and treatment.
Holyoke Health is a non-profit community health center that serves the medical needs of the Holyoke area. The Chicopee Health Center is located at 505 Front Street in Chicopee. The STD and sexual health services here include the following: Hepatitis B Vaccine, Chlamydia Test, Conventional HIV Blood Test, HPV Vaccine, Syphilis Test, Gonorrhea Test, Hepatitis A Vaccine, Hepatitis B Test and Hepatitis C Test.
Planned Parenthood League of Massachusetts also provides STD testing and treatment services in the Chicopee area. The nearest clinic is the Western Massachusetts Health Center. Located at 3550 Main St in Springfield, the health center provides comprehensive STD testing and treatment services for Chlamydia, Gonorrhea, Syphilis, Herpes and HIV. Free condoms can also be found here.
AFC Urgent Care is also located nearby in West Springfield. STD testing is available at this clinic. Walk-ins are welcome here, and patients can call ahead for wait times.
Better Sexual Health in Chicopee, MA
The CDC recommends that all adults and adolescents from ages 13 to 64 should be tested regularly for STDs and HIV. Individuals in the Chicopee area should be open and honest about issues related to sexual health. Talk to your doctor or healthcare provider about STD testing and treatment.
There are many resources available in the Chicopee area and Hampden County for sexual education and STD testing. The Massachusetts Department of Public Health and Planned Parenthood League of Massachusetts offer these services. Free and low-cost testing can also be found in the area.