STD Testing and Sexual Health Education in Kettering, OH
Comprehensive sexual education and HIV education are both required in the state of Ohio. However, despite the mandate for sexual education programs in local schools, there are no standards administered by the state government. For example, local programs are not required to be medically accurate, age appropriate or culturally unbiased. Ohio parents also have the ability to opt-out of sexual education programs for their children.
Ohio favors local control, or "home rule," for programs like sexual education. This means that local school boards govern how sexual education programs are run in local schools. School boards determine the curriculum, set standards and effectively decide how attention is brought to the issue of sexual health.
Local schools in the Kettering School District include Kettering Fairmont High School, Van Buren and Kettering middle schools, and eight elementary schools (Beavertown, Greenmont, Indian Riffle, J.E. Prass, J.F. Kennedy, Oakview, Orchard Park, and Southdale). Sexual education topics are discussed as part of students' health curriculum. Lessons vary based on the age and grade of students.
For sexual education resources outside local schools, resources are available at Planned Parenthood Southwest Ohio Region. Comprehensive educational materials can be found here as well as training opportunities and one-on-one consultations.
Sexually Transmitted Diseases and Demographics in Kettering, OH
In 2016, Ohio's highest Chlamydia rates were reported among individuals aged 20 to 24 years old. The age group also showed the most significant increases over the period 2012-2016. In 2016, 23,271 cases were reported among individuals in the age group. African Americans displayed the highest rates among various ethnic groups. In fact, 1 in every 3 cases of Chlamydia in Ohio were reported among African Americans.
Gonorrhea cases were split equally between males and females in 2016. However, the rate among males has been moving more clearly in the upward direction since 2012. Again, African Americans exhibited the majority of the state's cases. 52% of the total cases were reported among African Americans. The 20-24 age group showed the highest rates, but high rates were spread evenly across age groups.
Most Syphilis cases in Ohio were reported among men, and the male rate has increased by 62.5% since 2012.  African Americans showed the most cases. Teens and young adults (aged 15-29) had the highest rates, but rates were similar across age groups.
79% of newly diagnosed HIV cases were reported among males. The rate was highest among the 15-19 and 20-25 age groups. African Americans composed 52% of the cases, and whites represented 39% of the cases. The male-to-male sex (MSM) transmission category was responsible for the greatest number of cases.
1 in every 3 cases of Chlamydia in Ohio were reported among African Americans.

The Syphilis rate among males rate has increased by 62.5% since 2012.

Gonorrhea cases were split equally between males and females in 2016.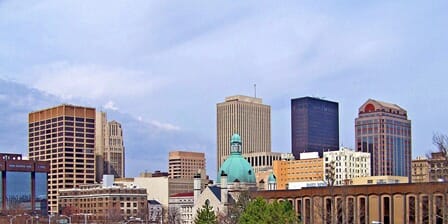 STI Testing Resources in Kettering, OH
There is no shortage of STD testing resources in the Kettering area. STD testing can be found at Montgomery County's STD clinic, Planned Parenthood or at one of the many health clinics in the area. STD testing and treatment services typically cover Syphilis, Gonorrhea, Chlamydia, HIV and other STDs.
Public Health – Dayton & Montgomery County (PHDMC) is operated by the Humans Services Department of Montgomery County.  The public health clinic is located at 117 S Main Street in Dayton, about 10 minutes from Kettering. The STD Clinic's services include patient evaluation, laboratory testing and treatment of STDs. Testing is offered for Syphilis, Gonorrhea, Chlamydia, HIV, Trichomoniasis, Herpes and Genital HPV. The clinic is open Monday through Friday, and appointments are required for testing.
Equitas Health – Dayton Region Office is regional community-based healthcare system. For many years, the clinic has served HIV/AIDS, LGBTQ and other patients in the area. Rapid HIV Blood Test and STD testing are available here. The clinic is open Monday through Friday during normal business hours.
At Planned Parenthood's Dayton Health Center, you will find STD testing, treatment and counseling for bacterial vaginosis (BV), chlamydia, genital warts, gonorrhea, herpes, HIV (testing and diagnosis only), syphilis and trichomoniasis (trich). The clinic provides condoms, female condoms, dental dams and hepatitis B vaccine. It is located 224 N Wilkinson St in Dayton.
Urgent care facilities in the Kettering area also provide STD testing services. Kettering Urgent Care Beavercreek and Doctors' Urgent Care Office are two well-known facilities in the Dayton area. These health centers offer confidential and safe testing and are open five days a week.
Better Sexual Health in Kettering, OH
Recent STD spikes in the Kettering area are very alarming. The Chlamydia and Syphilis rates in Montgomery County both increased by 30% from 2015 to 2016, and the Gonorrhea rate increased by 13%. Across the state of Ohio, county health departments are dealing with increased rates.
What can you do in response to high STD rates? Getting tested is a good way to take control of your sexual health. By getting tested, you will know whether you are affected by STDs. This is the thing you can do to stay healthy and protect your sexual partners.
Links to Resources:
Public Health – Dayton and Montgomery Counties