Public schools in the state need to pick a curriculum that adheres to the state standards ensuring that abstinence- only education, which is not an effective way of reducing unintended pregnancies and sexually transmitted diseases, is no longer the only thing being taught. Instead curriculum will also discuss contraception, safe sexual activity, relationship forming skills, and sexual abuse.
Local parents argued the parts of the curriculum did not feel age-appropriate to them, however they have been given the option to have their children opt-out of these classes. Given that STD rates are higher in the younger population it makes sense that this new way of educating our youth should help to decrease these numbers. It is the hopes of educators and health-care professionals that by having sexual health as part of the ongoing curriculum, the open discussion of sex will normalize it, taking stigma out of visiting a clinic for contraception or testing.
This can certainly play a role in keeping people from being tested in small communities like the ones that dot the state. Education is our best weapon in removing the stigma from sexual health-care.
In 2013, 64% of chlamydia cases and 43% of gonorrhea cases were reported in adolescents and young adults (ages 15-24). From 2010 to 2012, HIV infection diagnoses among adolescents and young adults: white (non-Hispanic) (34%) black(non-Hispanic) (33%) Hispanic/Latino (27%), and other (5%). Statistics prove that compared to adults, sexually active adolescents run a higher risk for acquiring sexually transmitted infections because of a combination of behavioral, biological, and cultural factors.
The state has a total population of 6.5 million people.
80% are white.
9% are Hispanic.
6% are black.
5% are Asian.
6% is a combination of other races or two or more races combined.
The average age is 38 years old for men and 40 for women. The sexually-transmitted disease surveillance report  showed higher rates reported of STDs among some racial or ethnic minority groups when compared to their white counterparts. Racial and ethnic markers go hand-in-hand with other determinants of health status such as poverty, unemployment, and low education.
In Massachusetts populations of color represent only 25% and yet to these communities bear a disproportionate number of STDs.
46% of syphilis.
61% of gonorrhea.
59% of chlamydia.
The poverty rates among Boston's native born (21%) and foreign born (23.3%) and elderly (21%). Health providers know that disease spreads more rapidly in conditions of poverty and local outreach targets those populations as well as other at-risk populations like those with addiction or mental illness.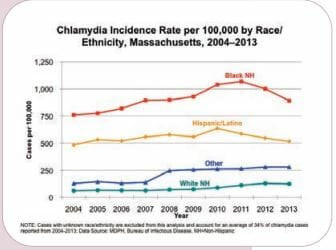 With recent changes to both our health-care system and the way that people here are thinking about educating our youth around sexual health, take charge of your own sexual health.
Ignore the myths that can keep you from getting tested:
My physician will tell me if I need to be tested.
I don't need to be tested if I don't have any symptoms.
I am monogamous.
I always use condoms.
Only promiscuous people get STDs.
I can't have an STD- I've only had one partner.
Remember, having sex with someone is like sleeping with every partner they have ever had- it's better to error on the side of caution!