Every major metropolitan area has its weakness. In Richmond, the rising STD rates are among the top areas of concern. Hepatitis B and C, HIV, Chlamydia, Syphilis, Herpes and Gonorrhea cases are being reported. STD clinics offer confidential and private testing and free testing centers are available for people with low income status. STD testing is easy to private and easy to order. After your order is placed, you'll just need to finish up with a visit to a nearby testing lab. This usually takes about fifteen to twenty minutes or less to complete. You're information is kept private so there is no need to worry about confidentiality breaches.
Every time a person is tested for an STD, local providers forward some of the demographic information to the health department. There is no need to worry about your privacy because no information that could be used to identify you is shared. The health department just wants general information that they can use to monitor the health of the area and generate annual reports that reflect STD rates. This is done for many different health concerns among the population including cancer rates, cardiac issues, live births, deaths and other data that falls under the classification of vital statistics.
The following table shows the results for this region based upon positive results per 100,000 in population.
Chlamydia- 459.9
Gonorrhea- 118.5
Syphilis (all stages)- 29.8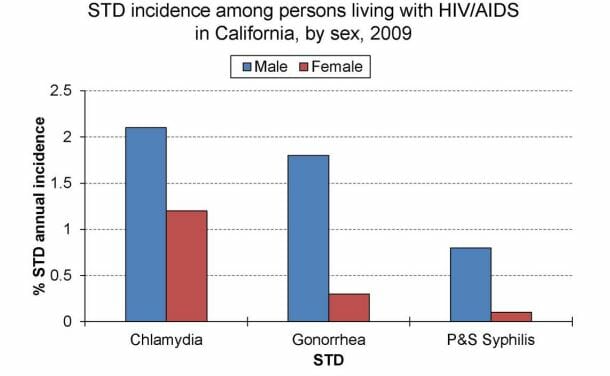 The rates for this region of the country fall within the top 22 or higher for all three of these sexually transmitted diseases. This causes great concern for local health departments as well as for the Center for Disease Control. The problem is obvious and steps must be taken to slow down the spread in this area. Chlamydia rates are double for women when compared to those of men. Gonorrhea and Syphilis are slightly higher in male populations than for females. Men who participate in male to male sex have the highest incidences of HIV, Syphilis and combination diagnoses with multiple STDs. Blacks have the highest rates for all STDs with regard to ethnicity statistics. They are followed by Alaskan Natives/American Indians, Hispanics, Whites, Asians and unknown ethnic status. The reason that this data is important is that it helps to identify which specific groups of persons are at the highest risk so educational campaigns can help to target them for education and health based assistance programs.