STD Testing and Sexual Health Education in Irvington, NJ
New Jersey, according to some, has developed a reputation as a leader nationally in sex education over the last three decades. They were the first state in the country to pass a mandate for sex education classes. We still need to ask the question if teens are getting all the information they need from their high school sex education classes.
David Saenz is a spokesman for the New Jersey Department of Education. He stated recently that New Jersey's student learning standards include the study of comprehensive health and physical education, and as part of that, students are given a far-ranging course on human relationships and sexuality. The idea is that students in high school get knowledge about physical, emotional, and social aspects of human relationships and sexuality.
They can apply this knowledge to support a health lifestyle. Some believe that that is not enough. One who believes it is not enough is Nicole Cushman who is executive director of Answer and part of a program at New Jersey's Rutgers University/Center for Applied Psychology. Answer is a program dedicated to promoting access to comprehensive sex education.
Cushman feels the comprehensive standards don't always translate to effective teaching. She notes that students are not always satisfied with the information they are getting in school. Answer is devoted to teacher training to improve student satisfaction and make the classroom experience better when it comes to sex education and working with schools.
Sexually Transmitted Diseases and Demographics in Irvington, NJ
There was hope at one time we could eradicate STDs. Unfortunately, STDs are not being eradicated in your state or nationally including STDs such as chlamydia, gonorrhea, and syphilis. These are the three most commonly reported types of STDs.
New Jersey did better than other states. New Jersey ranked ninth for chlamydia, thirteenth for gonorrhea, and seventeenth for syphilis. The state held back the spread. Nationwide the increase recently was 19 percent for primary and secondary syphilis, 12.8 percent for gonorrhea, and 5.9 percent for chlamydia. Chlamydia accounts for about seventy five percent of STDs.
One explanation for the increases could be a cutback in funding for STD testing and treatment. This is according to the director of CDC's National Center for HIV/AIDS, Viral Hepatitis, STD, and TB Prevention.
Young people ages 15 to 24 face the greatest risk of becoming infected. They now account for nearly two-thirds of chlamydia diagnoses and half of gonorrhea diagnoses. We see reports that this demographic is the least likely to get tested and treated.
Gay and bisexual men are at increased risk for contracting gonorrhea and syphilis. As about four out of five new cases are being attributed to sex between men, we can see that this demographic is having unprotected sex. They are also more at risk for getting a version of gonorrhea that is resistant to antibiotics.
There is a marked and disturbing increase in the number of newborns born with syphilis nation wide. While women account for less than 10 percent of new syphilis infections, their rate of diagnosis jumped 27 percent in a single year. That, in turn, caused the number of newborn cases to increase by six percent.
New Jersey is one of 19 states that did not report a case of a newborn with syphilis in 2015. The last case here was in 2012. However, every county but Cape May reported one or more cases of syphilis.
Education could be helping but there is definitely room for improvement.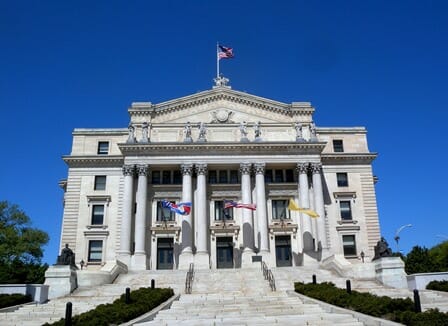 STI Testing Resources in Irvington, NJ
There are many resources available to you in your city and the Newark area for you to learn about STDs and where to get testing and treatment. Planned Parenthood/East Orange Health Center, an area high school, an area hospital, or a testing service could help.
At the Planned Parenthood/East Orange facility you can get STD testing, treatment, and vaccines. With regard to STD testing, diagnosis, and treatment this includes chlamydia, gonorrhea, syphilis, and other conditions such as bacterial vaginosis, genital warts, herpes, and trichomoniasis (trich). HIV testing and diagnosis are also services provided at the site. You can also get information on STD prevention, condoms, female condoms, and dental dams. Services are available on a walk in basis or by appointment.  The facility can use a urine sample to test for chlamydia and gonorrhea. If you test positive, you can get treatment for yourself and your partner. A finger stick blood sample can provide a rapid HIV test. Results are available in 10 to 40 minutes.
The Newark Community Health Centers Incorporated Irvington Health Center can also help. The center is a clinic that offers HIV testing, chlamydia testing, syphilis testing, gonorrhea testing, herpes testing, hepatitis B testing, and HPV vaccines.
New Jersey Statewide Family Centered HIV Care Network Family Treatment Center at Beth Israel Medical Center is another facility that can help. This clinic offers HIV testing, chlamydia testing, syphilis testing, gonorrhea testing, and herpes testing.
University of Medicine and Dentistry of New Jersey/Spend Time on Prevention Program is an educational organization and institution. It offers HIV testing, chlamydia testing, syphilis testing, and gonorrhea testing.
The North Jersey Community Research Initiative Counseling and Testing facility can also help. This clinic provides HIV testing (conventional and rapid), chlamydia testing, gonorrhea testing, and syphilis testing.
As you can see, there are several facilities that can help as can the East Orange Department of Health and Human Services Health Department. The clinic offerings include HIV testing, chlamydia testing, gonorrhea testing, syphilis testing, hepatitis B vaccines, and HPV vaccines.
A service such as STD Testing could be another option for you. They advertise their tests to be convenient, accurate, and private. The tests are FDA approved. No appointment is needed. You can access results from a computer or mobile device. Results come in one to two days. You order a test. Then you go to a lab. Then you get an email with results. When you order a test it can be a 10-panel test or an individual test or tests that you pick. Testing requires a blood or urine sample. Testing is monitored by a specialist from beginning to end. You are able to get medication through the services, getting prescriptions if needed. You can also read reviews on the website.
Better Sexual Health in Irvington, NJ
Whether you go to Planned Parenthood/East Orange Center, a high school counsellor or nurse at an area high school, an online service, or a clinic or hospital, you can find in your area information about STDs, testing, and treatment.
Help is available in your city and surrounding area in the way of testing and treatment that is discreet, confidential, compassionate, and effective with many facilities from which to choose.
Consider how the staff at these facilities is trained to help someone like you, especially with the staff at the East Orange Health Center/Planned Parenthood or any other facility reminding you to check your health, improve it, and keep yourself healthy by always using a condom.
Here are links to resources mentioned above.
http://www.nchcfqhc.org