STD Testing and Sexual Health Education in Bellflower, CA
A recent law requires that all California public school students take sex education with the education beginning in seventh grade.  
This recent act includes the purpose of promoting understanding of sexuality as a normal part of human development. It also has additional goals:
  

To provide pupils with the knowledge and skills needed for healthy, safe, and positive relationships and behaviors

  

To be sure pupils get integrated, accurate, comprehensive, and unbiased instruction on sexual health and HIV prevention plus provide educators with clear guidance and tools to accomplish this goal

  

To provide pupils with the knowledge and skills necessary to protect the reproductive and sexual health from STIs including HIV and from unintended pregnancy

  

To promote an understanding of sexuality as a normal part of development of a human

  

To give pupils the knowledge and skills needed to develop a healthy attitude about adolescent growth and development, gender, body image, sexual orientation, relationships, family, and marriage
The timing of this education is to come when a young person's body is developing. It is when a young person can have a strong interest and even a crush on another student. Students are dealing with the effects of hormones. Understanding all of this can be a challenge.
Another challenge most likely will be implementing this comprehensive sex education curriculum in conservative areas. Another challenge as well as a question is how the state will monitor school districts. Educators and legislators also wonder how many families will opt out of the program.
We see reports showing that some in the Right To Life organization consider the curriculum going too far. They object that pupils are being forced to listen to six years of education about sexual health and this new approach.
The California State Parent Teacher Association supports the new approach. They note that pupils should have unbiased information that is medically accurate.
Sexually Transmitted Diseases and Demographics in Bellflower, CA
A look at demographics can help our understanding of STI rates in your city and region. The city is the twenty fifth most densely populated city in the United States for cities over 50,000 and it has a population of 76616 according to the 2010 census.
It is the eighth most densely populated city in California. With a dense population typically comes a high number of STIs.
The racial makeup of the city was 42 percent white and 1 percent African American with 52 percent Hispanic or Latino of any race.
We should remind ourselves that due to population density and other causes, Los Angeles County has more infections than anywhere else in the country. Some blame the problem on technology and dating apps that can facilitate high risk hook ups.
STDs affect young people at high rates. They are the most likely to contract the disease through dating app hook ups. The age group of 20 to 24 is more like to contract an STD. Twice as many women suffer from chlamydia compared to men. Men suffer in higher numbers than women in other STDs including syphilis and HIV. Rates of infection are higher disproportionately for the African American community in Los Angeles.
People are not using condoms regularly so this could lead to the higher STD rates. People are going without testing and treatment and unknowingly spreading STDs. This is another possible reason for the higher rates. We also see reports that STD prevention systems have been weakened because local and state clinics have reduced capacity or closed in the last few years.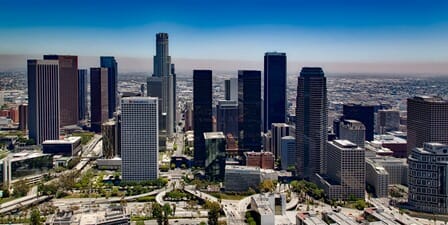 STI Testing Resources in Bellflower, CA
There are STI testing resources available in your city and throughout Los Angeles county. You can go to an area hospital, local lab or online service, or Planned Parenthood/Lakewood Health Center as some of the options.  
The Planned Parenthood/Lakewood Health Center offers STI counselling, testing, treatment, and vaccines. Testing, diagnosis, and treatment are provided for chlamydia, gonorrhea, bacterial vaginosis, genital warts, herpes, syphilis, and trichomoniasis. Testing and diagnosis only are provided for HIV. Prevention services include condoms and hepatitis B vaccines.
The Bellflower Medical Center is another option you could pick if you feel embarrassed about being at Planned Parenthood. STD Test Express is another option in your area. They advertise doctor guided STD testing helping you find the right testing option. They provide an STD testing recommendation created for you by their doctors. You can then get through them testing and options for treatment if needed. You can get tested for chlamydia, gonorrhea, hepatitis B, hepatitis C, herpes 1 and 2, HIV, syphilis, and trichomoniasis.
As we mentioned earlier, we do not know what is the precise cause for why people do not get tested. Services in your area are offering STD tests to be ordered online and mailed to homes. You provide a sample, send it back to a lab, and get results within a few days. We do not know how reliable these services are. The hope is to get approval for these tests from the U.S. Food and Drug Administration to sell similar tests in stores. These tests are not all cleared by the FDA to be sold online.
The Los Angeles Department of Public Health noted how difficult it can be to get people to go to one of their STD clinics. The county then offered kits online to test for chlamydia and gonorrhea for women under the age of 25 as this group should have annual screens for these two STIs as these women are considered at risk and bearing the consequences of the STIs.
Planned Parenthood also launched an app in California. Through the app men and women can order chlamydia and gonorrhea tests.
Another option is the myLAB Box. The kits sell online for getting tests for chlamydia, gonorrhea, HIV, trichomoniasis, and hepatitis C. They require a urine sample, vaginal swab, or blood from a finger prick to send to a lab.
You might like the anonymity of this approach. You do not have to have an embarrassing conversation with your doctor.
A down side of the kits is that people could get the kit then not get treated if needed. Only about half of the kits mailed out through the program run by the Los Angeles County's Health Depart had kits returned for testing.
Better Sexual Health in Bellflower, CA
Whether you go to the Lakewood Health Center /Planned Parenthood, a counsellor or nurse at an area high school, an online service, or a clinic or hospital, you can find in your area information about STDs, testing, and treatment. While STD rates are high in the Los Angeles area, help is available in your city in the way of testing and treatment that is confidential, discreet, compassionate, and effective.
Consider how the staff at these facilities is trained to help someone like you, especially with the staff at Planned Parenthood/Lakewood Health Center or any other facility reminding you to check your health, improve it, and keep yourself healthy by always using a condom.
Here are links to resources mentioned above.
http://www.hospital-data.com/hospitals/BELLWOOD-GENERAL-HOSPITAL-BELLFLOWER.html