The CDC and Los Angeles County Health Department recently released statistics that show the number of STDs reported in the city are rising, and have been for the past twenty years. While the statistics do include the entire county and LA metro area, they still affect residents in the small outlying city. Currently the rates for all of the sexually transmitted diseases are higher than state averages, and health officials do not expect this to change anytime soon.
Chlamydia rates in teens are rising at a slower rate, but this is countered by an increase in cases reported in women ages 20 to 24. While Gonorrhea rates have been decreasing in females, the same is not true for men. African American and Hispanic males are among those with the highest risk of contracting the infectious disease.
Men are testing positive more often for HIV and Syphilis, especially among males over the age of 24. The statistics also show that all men are equally at risk, regardless of their sexual preference. There has been an increase in Syphilis incidents in women in the last five years, and this indicates that the sexually transmitted disease is spreading faster than previously suspected.
With residents of all ages, genders and ethnicities testing positive more often for one or more of these sexually transmitted diseases it has never been so important for residents to be tested on a regular basis. Here are some of the other statistics that highlight the growing STD problem.
From 2006 to 2015 the Gonorrhea rates for the city and county more than doubled.
There were a total of 57,134 cases of Chlamydia reported with over 60 percent occurring in women.
In 2015 there were 92 cases of primary and secondary Syphilis reported in women, compared to 1,495 in men.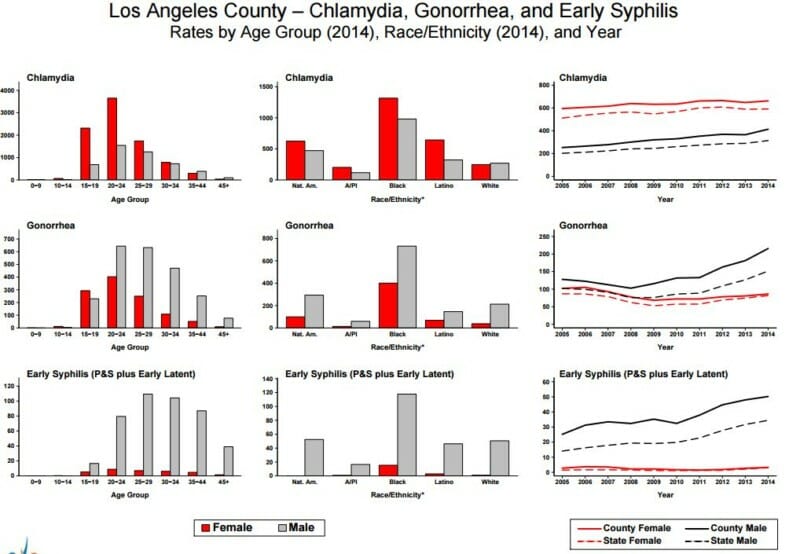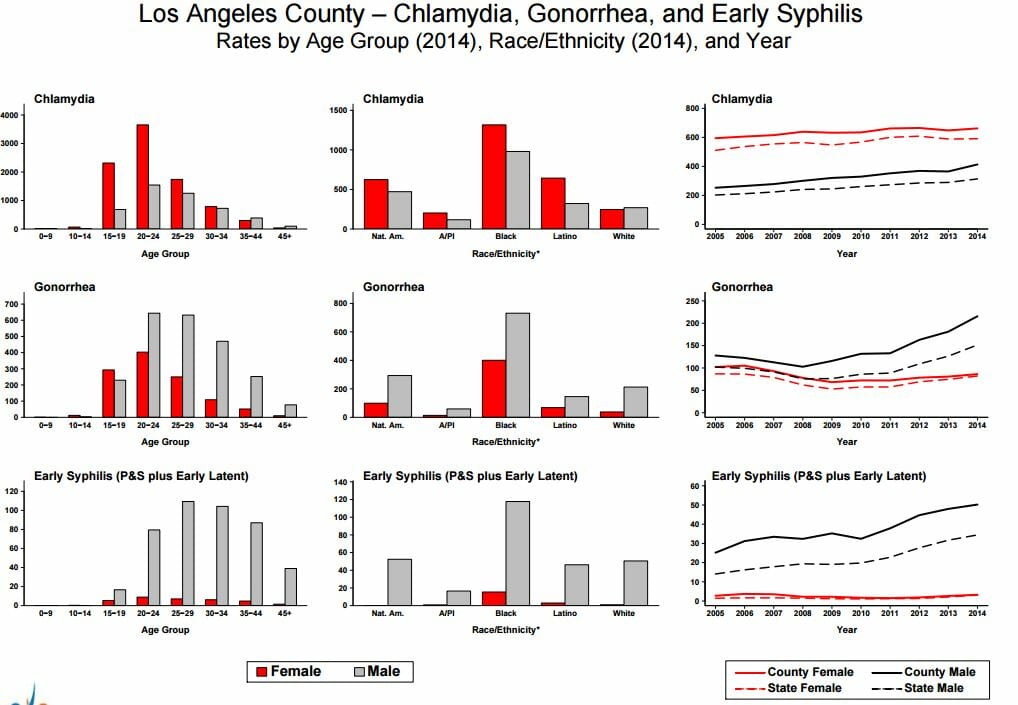 In response to the rising teen pregnancy and STD rates the state recently passed a bill that now requires all public school systems to provide students with comprehensive and medically accurate sex education classes. Referred to as the "California Healthy Youth Act" the new law standardizes sex education so students across the state can receive the information they need to protect their sexual health.
While this won't be an immediate fix for the high STD rates, it will take school districts time to implement the classes, it is being seen as a positive step towards lowering the number of sexually transmitted diseases reported annually.
There are some problems with the new law and this could determine how effective the new standardized curriculum is. Some of the rural school districts simply do not have the funding necessary to implement the classes, and the state cannot afford to help. There are only a few appointed officials tasked with overseeing the numerous public school districts and this means that there is no way to be sure that everyone is following the new curriculum.
Until every student receives comprehensive sex education they will continue to be at risk for contracting a STD. This makes it even more important for everyone to participate in regular HIV testing in Whittier, regardless of past sexual activity. The same is true regarding regular Herpes testing in Whittier, and the simple procedure could finally prevent the virus from spreading to others.