STD Testing and Sexual Health Education in Hoffman Estates, IL
Hoffman Estates benefits from being near several educational resources pertaining to STI's and HIV/AIDS. One such resource is the McKinley Health Center which is located within the city of Urbana. While Urbana is a few hours away, they offer workshops as a service to those wishing to hold them. They also offer resources online, walk in appointments, and condom distribution.
Also located about 30 minutes away is Angles for Sexual Health, Identity, and Education. They provide health care for youth up to the age of 25, education for children ages 5-12, and a variety of activities and services for teens who identify as questioning, transgender, lesbian, gay, or bisexual. They also provide clinics and counseling and have a Pride Youth Program for LGBTQ teens. Their Health Education gives fact based information to Junior and High school students.
Within the local system, students are facing the same issue as in other schools across the country. However, educators in Illinois seem to be more determined to teach medically sound facts than those in some other states. In August of 2013 Bill HB 2675 was passed. This piece of legislation prohibits abstinence only education within public schools. If schools decide to not include comprehensive information they can choose to not have a sexual education course at all.
Within Hoffman estates, the most accessible place to get free condoms is The Open Door Health Center which is located in Elgin, Illinois. Elgin is a 23-minute drive from Hoffman Estates. This health center also provides health education pertaining to sexual well-being.
Sexually Transmitted Diseases and Demographics in Hoffman Estates, IL
Within the city of Hoffman Estates there is an interesting juxtaposition in comparison to the rest of Cook County. All the data that pertains to Hoffman Estates is opposite to that data for the county. For example, the Non-Hispanic Blacks make up nearly 20% of the population of Cook County, while only about 3% of the population in Hoffman Estates. The poorest demographic of Cook County is Non-Hispanic Blacks (36%), while the poorest demographic of Hoffman Estates is Non-Hispanic Whites.
There is also a significant difference in the poverty rate itself.  The poverty rate within Hoffman Estates is around 3.5% while it is around 16% in the county. However, the employment rate is close in comparison for both counties.
Also, interesting to note it the fact that P&S Syphilis cases did not increase by much within Hoffman Estates, but did increase within the county. In 2015 the amount of cases nearly doubled from 69 cases to 146. 90% of the cases were male and 57% were Non-Hispanic Blacks. 40% of those infected were aged between 20 and 29 years old.
One of the major factors that could possible play a part in the amount of those infected within Hoffman Estates is the amount of commuting that occurs. Most of the residents commute up to 30 minutes for work. This could possibly play a part as to why the numbers are lower within Hoffman Estates as opposed to Cook County. Residents of Hoffman Estates are interacting with individuals outside their town.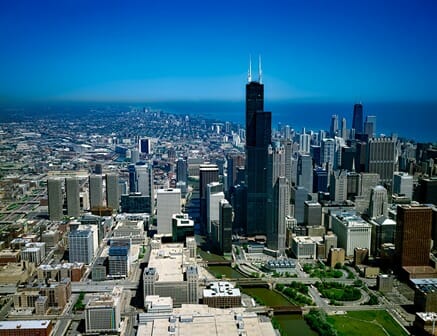 STI Testing Resources in Hoffman Estates, IL
One location is the Renz Addiction Counseling Center. There are three locations, but the closest one is in Elgin. They offer HIV testing and counseling. To make an appointment or seek advice as to how to proceed with testing, individuals are encouraged to call or email the center. They accept most major insurances.
The closest Planned Parenthood is in Aurora, which is about a 45-minute drive south. They are opened during the week. They offer testing for all major STI's and have counseling available. They accept many major insurances including Aetna, Cigna, and Blue Cross Blue Shield.
Life Choices Medical Center is also an option for those seeking testing services. Life Choices is in Elgin and is about a 17-minute drive from Hoffman Estates. They offer an online chat service, texting service and 24-hour hotline. In the clinic, they offer STI testing services for primary STI's.
Home Access Health Corporation has an office that is in Hoffman Estates. This company offers safe, effective at home testing with lab results that are available to view online. They test for HIV and Hepatitis C.
Finally, ARCPoint Labs in Elk Grove Village has testing facilities and is about a 19-minute drive from Hoffman Estates. Onsite and mobile testing is available as well as call ahead appointments. Aside from testing for individual STI's, they have two comprehensive panel packages.
One is the basic STD profile which includes Chlamydia, Gonorrhea, STD profile, Hepatitis A Antigen, Syphilis, Hepatitis B Core Antibody, HIV ½ Antibody, Hepatitis C Antibody, and Herpes Type 2. With their Ultimate STD profile individuals are tested for HIV 4th Generation, Hepatitis B Surface Antigen, Syphilis Test, Hepatitis B Core Antibody, Hepatitis C Antibody, Herpes Simplex Virus, Chlamydia and Gonorrhea. Furthermore, they provide rapid oral HIV testing with results in as little as 20 minutes.
Better Sexual Health in Hoffman Estates, IL
Hoffman Estates in Illinois is close to many valuable and informative resources. The City and the country provide good educational venues and support for those dealing with an STI or HIV/AIDS. There are several testing centers for those affected by HIV and STI's or who think they may need to be tested. Though the closest Planned Parenthood is located a few miles away, it still is also a good source for treatment. There are many health centers that offer educational resources and free condoms to those in need. The educational system is further advanced in comparison to other states when it comes to education youth about sexual health. Finally, it is encouraged that if you believe you might have an STI, you seek out testing and treatment.