STD Testing and Sexual Health Education in Skokie, IL
In your area you can find reliable information about sexual health and STDs at an area middle school or the high schools at Niles West or Niles North plus get treated in your neighborhood.
You can go to an area medical center such as the Skokie Hospital/North Shore or contact Planned Parenthood for details on how to get tested and treated.
The Cook County Health and Hospital System advises that to avoid STDs, you should have no vaginal, oral, or anal sex and that relations with one partner you know is not infected is the ideal. Through the Cook County CORE program, the advice is to avoid STDs if you are sexually active by using a condom when having vaginal, oral, or anal sex.
Illinois is one of the states that do not mandate schools provide sexual education. When it is provided, the law states that the school must emphasize abstinence. It is expected as the norm. Abstinence from sexual intercourse is the only protection that is 100 percent effective against unwanted teenage pregnancy and STDs.
Schools in Illinois can teach sex education in any grades 6 through 12 according to Public Act 98-0441. Instruction can include contraception and abstinence. Materials must be evidence based and medically accurate. The Illinois State Board of Education reviews programs and adaptations in consultation with the Illinois Department of Human Services, Illinois Department of Public Health, and the CDC.
No state agency tracks what kind of sexuality education the school districts in Illinois provide. A report from the University of Chicago found that 93 percent of districts offer sex education. About 65 percent offer programs that include discussion of contraception and STDs.
Sexually Transmitted Diseases and Demographics in Skokie, IL
Demographics play a role in the growing number of STDs in your area and throughout Cook County as STDs cases are high in your area as your city is located in the second most populous county in the United States. With lots of population, unfortunately, comes lots of STDs concentrated in Cook County with more than 40 percent of all the people in Illinois living in your county.  Rates are higher for STDs in an urban area such as Cook County with poverty playing a role. STDs can affect areas of low income and economic disadvantage at a rate higher than other areas but STDs can affect a person of any income level. Demographics such as poverty can cause STD rates to rise and be high in those parts of Cook County and Chicago.
Your state ranked eighth for gonorrhea in 2010 for cases per capita. For acquired immunodeficiency syndrome (AIDS), your state is in the top ten in the United States. New York, California, and Texas are also in the top 10.
In Illinois race and gender play a role when it comes to STDs. Here are some statistics for Illinois.
      

For every 100,000 Asians 7.8 percent were diagnosed with HIV in 2011.

      

The rate of Hispanic males with HIV was 2.1 times greater than for a white male in 2010.

      

32.9 percent of HIV patients developed AIDs within a year of being diagnosed.

      

For females 28.2 percent of HIV infections came through injection drug use in 2010 with the rest primarily resulting from an STD.
Recent figures show that for every 100,000 people your state had the eleventh most reported cases of syphilis. The state had the fifteenth most cases of gonorrhea. The stated ranked eleventh for cases of chlamydia.
From 2011 to 2015 the Chicagoland area reported cases of syphilis climbing by more the 1500. Cases of chlamydia climbed by more than 5000. Gonorrhea cases rose by just under 400.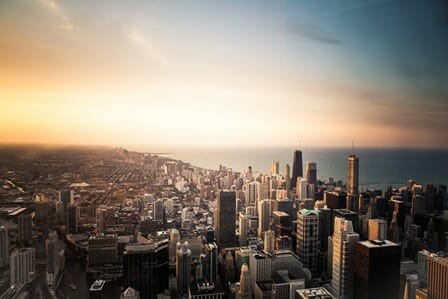 STI Testing Resources in Skokie, IL
Sexually transmitted infection (STI) testing and treatment are available to you in your neighborhood with you learning more if you contact an area hospital such as Skokie Hospital or high schools such as Niles West or Niles North. You can also contact the Planned Parenthood group at Rogers Park Health Center to get information.
The options are there for you in your city and throughout Cook County. You will learn about STIs and testing for chlamydia, gonorrhea, syphilis, HIV, HPV, and hepatitis when you contact a group such as the Rogers Park Health Center/Planned Parenthood.
Resources in your neighborhood and Cook County include offices that are open not only during the workweek but also on weekends. Same day service is available at area facilities with Cook County clinics emphasizing privacy, speed, and simplicity and some resources offering chat to answer your questions. Priority STD Testing is one of these facilities. STD Test Express is another with their office open seven days a week. Chlamydia and gonorrhea testing is available as are vaccines.
If you are not comfortable going to clinic that handles STDs only, the Skokie Hospital could be a good option for you as is Northshore University Hospital.
In addition to getting information about testing and treatments for STDs, the Cook County Department of Public Health offers condoms and information about testing. These are free of charge to you if you are a resident of suburban Cook County. If you contact the office by email or telephone you can find out the best location for you for testing and treatment. You order the tests, go to a lab, get results via telephone, then talk to a doctor via phone. You can also get a prescription from this service.
Better Sexual Health in Skokie, IL
Your location and locations throughout Cook County can provide you with resources to help you learn about STDs as with the Rogers Park Health Center/Planned Parenthood you can get information about how to get tested and get treatment if you test positive for an STD. You can get information from a hospital such as Skokie Hospital, public health department, school such as the high schools at Niles West and Niles North, or planned parenthood services all located near you.
All will be done in a confidential way as the resources in your city and throughout Cook County can help you with testing, education, and overall good sexual health and well being whether you are male or female.
Here are links to resources mentioned above.
https://www.northshore.org/locations/our-hospitals/skokie-hospital/
http://www.centeronhalsted.org/hot/view_org.cfm?ID=58
https://www.niles-hs.k12.il.us/north