STD Testing and Sexual Health Education in Oak Park, IL
We see reports of two working mothers in the city who are on the cutting edge of sex education. Let's look at their ideas as a reflection of local ideas. Research shows that sex education is more effective when it starts as young as kindergarten. It should go beyond instruction on topics such as STDs, sexual function, and sexual abuse.
These two mothers started Oak Park Our Whole Lives (OWL) to improve sex education in the area. Nara Nayar and Nina Brewer-Davis founded OWL. This is a K to 8 comprehensive sexual education program. It is modeled on a national program designed by the Unitarian Universalist Association and the United Church of Christ.
The curriculum is based on guidelines drafted by the National Guidelines Task Force. The task force is an arm of the Sexuality Information and Education Council of the United States. This is a national nonprofit that develops and disseminates information on sexual education.
A mother of two young children, Brewer-Davis teaches philosophy at Dominican University. She grew up as a member of Beacon Unitarian Church. She notes that when she was 14 she went through a similar program. It made a difference in her life.
The OWL program at Unity Temple offers classes to first, fifth, and eighth-grade children who are members of its congregation. The program contains no religious doctrine. The two mothers who founded Oak Park OWL did so with the help of grant funds. Sex education in the school district does not start until sixth, seventh, or eighth grade.
Sexually Transmitted Diseases and Demographics in Oak Park, IL
Demographics play a role in the number of STDs in your city, plus Chicago. Your city is considered to be a diverse community. The racial makeup of the village was 67.7% White, 21.7% African American, 0.2% American Indian, 4.8% Asian, 2.0% some other race, and 3.6% from two or more races. Hispanic or Latino of any race were 6.8% of the population.
For the period 2009–11, the estimated median annual income for a household in the village was $78,384, and the median income for a family was $105,217. According to a statement made by a professor at Chicago's Northwestern University, large cities have people with diverse backgrounds and sexual practices.
In addition, large urban areas tend to have more STIs because of the many changes in populations. Diverse sexual trends or what is called sexual sorting happens as people with the same interests come together. This can drive up rates of STIs in young adults. As people come into various groups, they could get infected. This could cause young adults in the Chicago area to have some of the highest STI rates in the country.
Chlamydia continues to be the most common communicable disease in Chicago, with more than 27,000 new infections reported to the Chicago Department of Public Health in 2014, about 8 percent higher than 2010. Continuing a trend from previous years, the number of women with a new chlamydia infection was about two times higher than diagnosis for men.
Women may see higher rates of chlamydia diagnoses because more of them are being screened for the infection, while men may go undiagnosed, according to the Centers for Disease Control. However, data shows that adolescents and young adults account for the vast majority of STI diagnoses in Chicago. People aged 13 to 24 account for approximately 60 percent of gonorrhea cases and nearly 67 percent of chlamydia cases.
One of the trends seen over the past few years is that there are younger individuals that are being affected, especially by chlamydia and gonorrhea.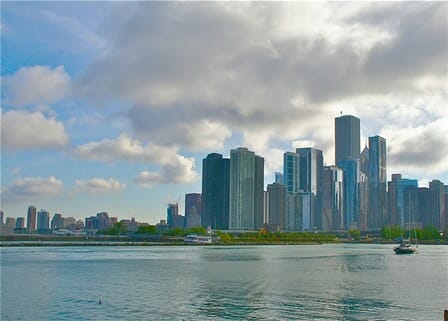 STI Testing Resources in Oak Park, IL
Fortunately, there are STI testing resources available for you including the Planned Parenthood/Austin Health Center. Another option is the AIDS Healthcare Foundation Wellness Center. It offers STI and HIV screening. It is a walk in clinic. Testing is done using swabs, urine samples, and blood samples. The average age of clients is between 20 and 30 years old.
If you are embarrassed or ashamed to be seen in line at Planned Parenthood or another clinic offering STD testing only, you have other options in your area. This includes an urgent care center or hospital such as Rush Oak Park Hospital where no one knows you are there due to issues over STDs.
The Austin Health Center/Planned Parenthood facility could be an ideal place for you to go for information. English and Spanish are spoken at this facility. You can book an appointment online or via telephone. Testing is for both males and females.
Testing for chlamydia, gonorrhea, herpes, syphilis, and other STDs is covered. The staff is trained to work with someone in your situation. They are compassionate and caring. They try to protect your privacy and confidentiality. If are are 19 to 26 with no health insurance, you could get help for an HPV vaccine (Gardisil) at no charge. Medicaid is accepted.
The Brothers Health Collective is another option. It offers STD testing including HIV and hepatitis C. English, Haitian Creole, and Spanish are spoken there. Walk ins are welcome. Populations serviced include adolescents, youth, teens, African Americans/Blacks, at risk persons, gay men, the general public, Hispanics/Latinos, LGBT, low income persons, men, men who have sex with men, persons practicing high risk behaviors, and women.
This Brothers group is a peer lead organization formed in 2006 by volunteers to fill gaps in service in prevention and care for testing and counseling for Black men and intimate partners in Cook County and surrounding areas and counties.
The Oak Park Department of Public Health is another option for you. This is one of the STD clinics that offers a variety of services that range from different types of disease testing to treatment of bacterial, viral, or parasitic infections. Services include:
HIV testing and counseling

HIV prophylaxis medication that can help prevent the spread of the disease after exposure

Testing and treatment for STDs

Advice and support groups for safe sex

Free contraceptives such as condoms and emergency contraceptives (morning after pills)

 

Hepatitis B vaccinations
You might also choose a private service. This can include STD Test Express.
Better Sexual Health in Oak Park, IL
Whether you go to Planned Parenthood, a high school counsellor or nurse at an area high school, an online service, or a clinic or hospital such as Rush Oak Park Hospital, you can find in your area information about STDs, testing, and treatment.
While STD rates are high in the Chicago and Cook County areas, help is available in your city in the way of testing and treatment that is confidential, discreet, compassionate, and effective, with many facilities having a bilingual staff. Consider how the staff at these facilities is trained to help someone like you, especially with the staff at Planned Parenthood/Austin Health Center or any other facility reminding you to check your health, improve it, and keep yourself healthy by always using a condom.
Here are links to resources mentioned above.
https://www.roph.org